Rocky's Pub and Grill now open for lunch
January 8, 2014 |
UToday
By Cynthia Nowak
---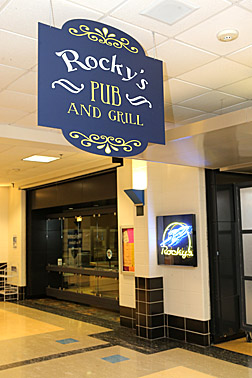 The diners spoke and the University listened.
After gathering comments and opinions from students and other UT community members, the Office of Auxiliary Services, which oversees campus dining venues, announced that starting today, Rocky's Pub and Grill will open for business at noon.
The restaurant, which offers a wide selection of grilled sandwiches, previously had opened later in the day.
The new hours for Rocky's are Monday through Thursday from noon to 10 p.m. and Fridays from noon to 7 p.m.
Beer and wine will be available starting at 4 p.m. daily, for which all patrons will be required to produce proper identification.
Some new items on the grill are being introduced along with the extended dining hours, said Joy Seifert, director of auxiliary services.
"We're pleased to be able to offer a new option for lunchtime," she added. "By holding public town hall-type meetings, we were able to ascertain that students would welcome the innovation, so we decided to expand the menu as well."
Rocky's Pub and Grill is located on the lower level of the Student Union across from the UT Copy Center.