Men's basketball home game to be televised by CBS Sports Network
---
The University of Toledo men's basketball home game vs. Mid-American Conference East Division favorite Akron has been selected to air nationally on the CBS Sports Network.
The announcement will move the game from Saturday, Jan. 16, to Friday, Jan. 15. Tip-off time for the contest in Savage Arena will be 7 p.m.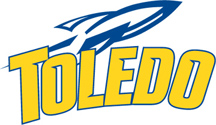 The Rockets' contest vs. the Zips marks UT's fourth game televised by the CBS Sports Network this season with the first three coming at the 38th annual Great Alaska Shootout.
It is also the second-straight year that UT will host Akron in a nationally televised contest with last year's matchup being televised on ESPNU. Toledo downed the Zips by an 84-67 margin at home last year before posting a 68-66 road win.
Click to access the login or register cheese