Wild horse birth control offers solution to overpopulation in Western states
---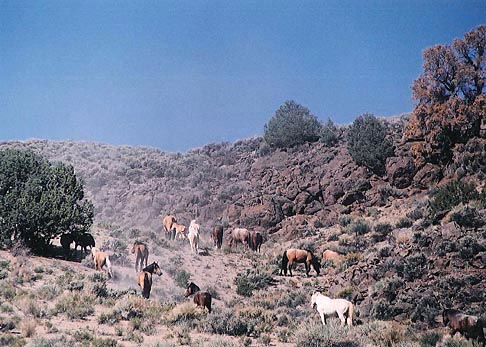 Researchers at The University of Toledo have developed an effective birth control vaccine for wild horses that could be the answer to much of the ongoing controversy regarding the United States' efforts to control the animals' population growth.
Working with the U.S. Department of Interior's Bureau of Land Management, Dr. John Turner, UT professor of physiology and pharmacology, has led a team that developed a vaccine — named PZP — that prevents a mare's egg from connecting with a sperm cell, blocking fertilization.
While the concept of wild horse birth control is not new, the effectiveness of Turner's method is. By creating a vaccine that uses time-released polymers to give periodic vaccine boosters in a single injection, Turner has created birth control that lasts two to three years with single access to a given mare.
"This vaccine is administered when wild horses are periodically rounded up by the Bureau of Land Management for adoption or placement in 'sanctuaries,'" he said. "However, many more horses are gathered than can be placed, so to slow down reproduction, we vaccinate the females that are to be returned to the range.
"In 1971, wild horses and burros came under the protection of the federal government. Part of that responsibility includes ensuring the wild horse population doesn't grow beyond the ability of the natural resources of the land to sustain them," said Turner, who recently received a $2.7 million grant from the Department of Interior to further his vaccine research.
Part of Turner's grant is for research to expand the single-injection vaccine to last up to four years as well as to begin wide-scale implementation of what has to this point been a vaccine in the experimental phase.
In the 1920s, an estimated 200,000 to 400,000 horses roamed the United States. In the late 1970s, as Turner began working with wild horses, that number was about 80,000. Today, an estimated 35,000 wild horses and burros compete with sheep and cattle for grazing fields, water and space. In the face of continuing human expansion, this number is still well in excess of what the available lands of the arid West can support, according to Turner.
The vaccine also has applications beyond wild horse population control. Turner's research team has been working with zoos to use the vaccine to enable male and female animals to share a habitat display without the risk of new offspring the zoo may not desire.
"We've tested the vaccine on close to 100 different species and found it to work well with about 70, including elephants, bears and deer, which in some places are presently being managed in the wild with this vaccine," Turner said.
"Horses have always had a special place in the culture and history of the United States. For me, the wild horse remains a magnificent creature for which I have great respect," Turner said. "It is one of very few large mammals that can live and even thrive year round in the harsh, dry high deserts of the inter-mountain West. These animals are truly a testimonial to the adaptiveness of nature, and I am blessed to be able to study them and help in finding a humane way to assure their wild future."