Deadline to bid on Tie One On jerseys Jan. 17, event set for Jan. 24
---
The Toledo men's basketball program will hold the fifth annual Tie One On event Saturday, Jan. 24, vs. Bowling Green.
All proceeds from the event will benefit cancer care, awareness and outreach at The University of Toledo Medical Center.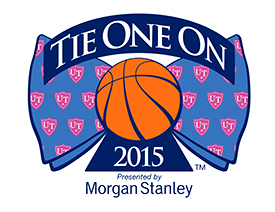 Head Coach Tod Kowalczyk and his staff will sport bow ties during the game. Rocket fans are invited to join the fun, too; more than 500 fans participated last year. For $100, individuals will receive a ticket to the game, a UT bow tie or scarf, and a pre-game reception by signing up here. For questions about the event, call 419.530.1273.
Students can purchase the same package at a discounted rate of $20.
For the third straight season, the Rockets' jerseys from the contest will be auctioned off. Individuals can bid on the uniforms until Saturday, Jan. 17, with bidding starting at $100 and increasing in $25 increments here. The winning bidder will have their name placed on the back of the player's warm-up and receive the player's jersey and warm-up after the game.
Tie One On, started by University of Toledo Vice President for External Affairs Lawrence J. Burns, was inspired by the Coaches vs. Cancer effort. Instead of tennis shoes, Kowalczyk and his coaching staff wear bow ties to support the fight against cancer. More than $70,000 has been raised in the first four years in support of cancer care, awareness and outreach.
UT partners with Bow Tie Cause and Dhani Jones on the ties. The event has received national coverage from Fox Sports' Ken Rosenthal, who has worn the UT bow tie during Major League Baseball telecasts the last three seasons as well as the past three World Series.