Trio of volleyball players named to Academic All-MAC squad
---
Seniors Dakota Harkins, Adria Pryor and Lauren Rafdal have been named to the 2013 Mid-American Conference Volleyball All-Academic team.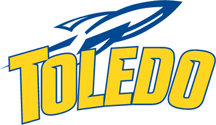 A middle blocker who possesses a 3.848 GPA with a double major of anthropology and history, Harkins ranked second on the team and sixth in MAC play with a .332 attack percentage. She also was second on the team with 0.84 blocks per set and third with 2.37 kills per set. Harkins tied her career high with 16 kills along with a .500 attack percentage vs. Eastern Michigan (Nov. 1) and tallied season-high 12 blocks (one shy of career best) at Kent State (Oct. 19).
Pryor, who holds a 3.663 GPA in exercise science as a setter, led the MAC in league play with 11.52 assists per set and also ranked fourth on the team with 2.54 digs per set. She helped Toledo rank third in the MAC with 12.81 kills per set and fifth with a .217 attack percentage. Pryor was named MAC West Division Offensive Player of the Week Oct. 28 after averaging 12.75 assists per set, 2.25 digs and 0.75 blocks per set, as well as a .500 attack percentage to lead UT to 3-1 home triumphs over Miami and Bowling Green.
Rafdal has registered a 3.566 GPA as a nursing major and was the first Rocket ever to earn American Volleyball Coaches Association Honorable-Mention All-America and All-Region honors. She led the MAC in league play with 4.27 kills per set and topped the Rockets in kills in 25 matches. Rafdal registered the top two kill totals in the MAC with a career-high 28 terminations and .300 attack percentage vs. Ball State (Oct. 3) and 27 vs. Northern Illinois (Oct. 11).
Senior outside hitter Jordan Kielty and senior right-side hitter Becca Reidy each received Academic All-MAC honorable mention honors.
Click to access the login or register cheese