UToledo to Present Saturday Morning Math Sessions
---
The University of Toledo will offer six lessons on real-world math Saturday mornings starting Feb. 1 in Memorial Field House Room 1240.
These free, public sessions will begin at 11 a.m.; no registration is required to attend.
Following the success of UToledo's Saturday Morning Science, faculty from University College and the Department of Mathematics and Statistics decided to create a program for the public that would present basic mathematical ideas in simple ways.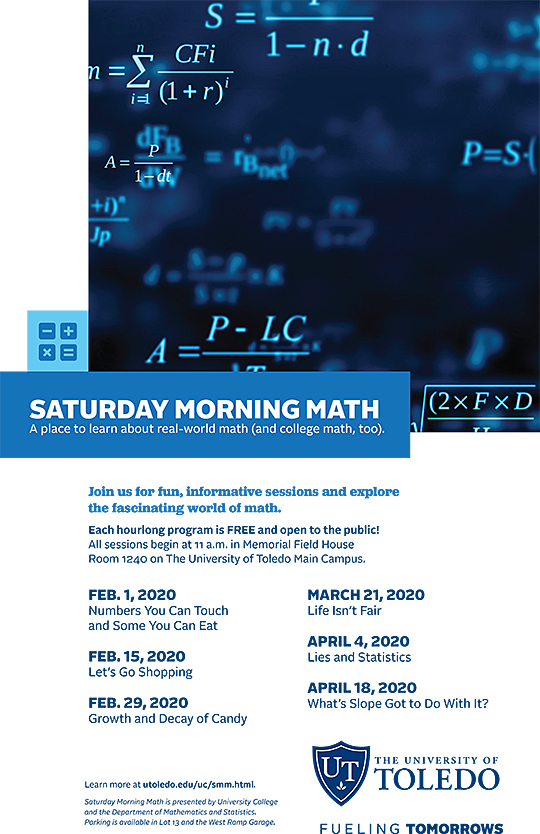 The sessions were designed to prove that mathematics can be simple and fun. The programs are for people considering attending college; parents of potential students who are concerned about college-level mathematics; people who realize it's important to understand mathematics but never "got it" or have forgotten how mathematics work; and people who want to learn some new ideas.
Organizers stress math is not mysterious or impossible to understand; anyone who knows how to add, subtract, multiply and divide has the skills to be good at math.
Listed by date, the hourlong Saturday Morning Math sessions will be:
• Feb. 1 — "Numbers You Can Touch and Some You Can Eat." This session will cover the basics — fractions, exponents, multiplication, division, addition and subtraction.
• Feb. 15 — "Let's Go Shopping" will discuss percents, increases, decreases, markups, discounts and taxes.
• Feb. 29 — "Growth and Decay of Candy." Exponentials, logarithms, growth, decay, effects of inflation, population trends and more will be explored.
• March 21 — "Life Isn't Fair" will spotlight ratios, proportions, probability, odds, and why the lottery isn't a path to riches.
• April 4 — "Lies and Statistics." Mean, median, mode, distributions, normal curves, and how numbers can be misleading will be the topics of this session.

• April 18 — "What's Slope Got to Do With It?" Graphs, slope, rates of change, maximums, minimums, and predicting the future will be covered in this hour.
Those who attend will receive free access to ALEKS, a web-based educational program for K-12 and college mathematics, to practice their skills at home.
For more information, visit the Saturday Morning Math website.