Rocket football to hold signing day event Feb. 3
---
The University of Toledo football coaching staff will host a special presentation of its 2016 recruiting class Wednesday, Feb. 3, at 5:30 p.m. in Savage Arena.
Doors will open at 5 p.m. The event is free for all Rocket fans.
Head Coach Jason Candle and his assistant coaching staff will review their 2016 recruiting class and show video highlights of each signee at the event.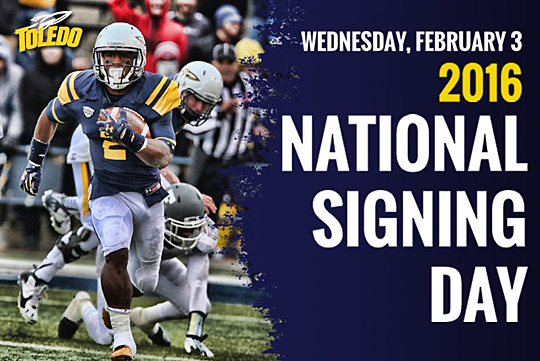 Feb. 3 is the first day that high school seniors are allowed to sign national letters of intent.
Following the presentation, Rocket fans will have a chance to meet the coaches at a reception and sign their own "letter of intent" with the football team. Fans who sign a letter committing to purchase season tickets for the 2016 season can get their "signing day" photo taken with Candle. Season ticket information will be available. Current season ticket holders may renew their season tickets at the event.
"While we celebrate the signing of our 2016 football recruiting class, we thought it would be appropriate to celebrate the commitment our fans have to the Toledo football program," said Senior Associate Athletic Director Dave Nottke. "Fans who get a photo of themselves signing their 'letter of intent' with Coach Candle will have a great memento for their office or home."
Free soft drinks and snacks will be available at the event. There also will be a cash bar and the concessions stands will be open.
In addition, free Marmot Boca Raton Bowl Championship posters will be distributed at the event.
The Rockets will open the 2016 season at Arkansas State Saturday, Sept. 3. The home opener is Saturday, Sept. 10, vs. Maine.
For season ticket information, call 419.530.GOLD (4653).