Toledo to hold prospect, youth all-skills baseball camps Feb. 10
---
The Toledo baseball program will hold a prospect camp and a youth all-skills camp Sunday, Feb. 10, in the Fetterman Training Center.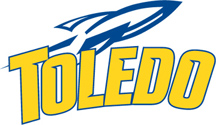 The prospect camp will run from 10 a.m. to 3 p.m. for players in grades seven through 12, while the all-skills camp will go from 4 to 6:30 p.m. for kids in grades one through six.
In the prospect camp, players will be instructed and evaluated by the UT baseball staff, players and several college coaches. The cost of the one-day camp is $100 and is nonrefundable.
The camp is designed to provide instruction on specific aspects of the game, while also giving campers the opportunity to display their skills at the position of their choice for UT's coaching staff. It also serves as a time for Toledo's coaches to see the players' skills before spring and summer recruiting begins.
In the all-skills camp, players also will be instructed and evaluated by the UT staff and players. The cost of the one-day camp is $60 and is nonrefundable.
The all-skills camp is offered to players that want to excel to the next level of their games and be ready for the spring season.
For both sessions, campers should bring a glove, bat and helmet, and they should wear comfortable workout attire and cleats. Catchers should bring their own catcher's equipment.
The Fetterman Training Center provides an opportunity for complete baseball skill instruction and performance. The state-of-the-art facility is equipped with indoor hitting and pitching stations, enabling campers to receive instruction in all aspects of the game.
To receive more information or to sign up for one of the camps, visit the camp website at toledobaseballcamps.com.
For questions, contact Assistant Baseball Coach Nick McIntyre at 419.530.3097 or nmcinty@utnet.utoledo.edu.