UTC3 donors celebrate at breakfast
February 6, 2018 |
UToday
By Christine Wasserman
---
Nearly 130 UT faculty, staff and retirees celebrated their pledges to the 2017 University of Toledo Community Charitable Campaign (UTC3) at a breakfast held in their honor Jan. 30 in Savage Arena.
Pledges from 663 donors totaled $128,934, which will assist nearly 220 nonprofit organizations throughout the region this year.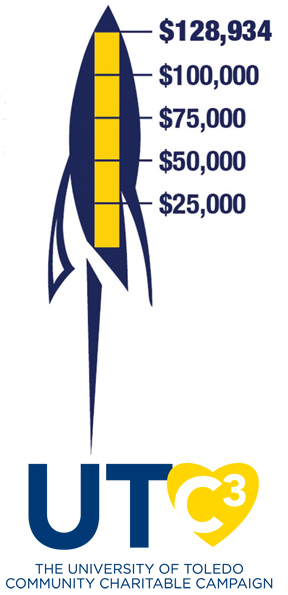 President Sharon L. Gaber thanked donors for demonstrating their commitment to the community, as well as setting an example for UT students. "They witness through us the importance of giving back and aligning their passion with a purpose," she said. "I'm really pleased that we exceeded our campaign goal once again this year. What a tremendous show of support!"
"It was difficult to ask our campus community to donate to this campaign so near the holidays," noted Dr. Michele Soliz, UTC3 chairperson and assistant vice president for student success and inclusion. "Yet, hundreds of individuals stepped up to show their concern for community members in need, and that's always heartwarming. It makes me very proud to be part of this incredible organization."
In addition to the generous buffet, UTC3 donors were offered the chance to win several prize drawings at the breakfast, as well as a complimentary gift — a UTC3 tumbler with straw.
Individuals who made a UTC3 pledge but could not attend the breakfast will receive their complimentary gift through interoffice mail within the next two weeks, if they responded to the breakfast email invitation and provided their UT mailing address.
If you have questions about the campaign or were unable to pick up your free gift at the breakfast, contact UTC3campaign@utoledo.edu and be sure to include your name and UT mailing address.
Photos from the Jan. 30 breakfast are posted at utoledo.edu/utc3.