Toledo to hold 'Rockets for the Cure' Feb. 15
---
The women's basketball team will hold its sixth annual "Rockets for the Cure" Saturday, Feb. 15, as the Midnight Blue and Gold entertain Ohio at 2 p.m.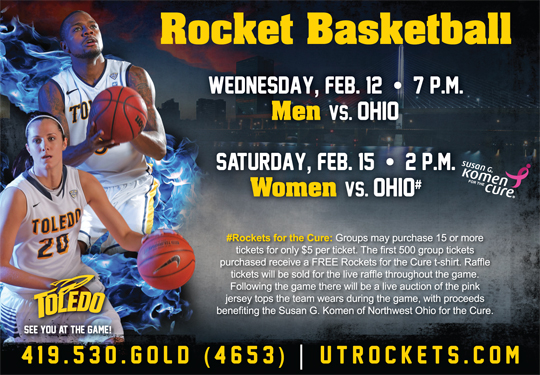 The Mid-American Conference cross-division matchup will help benefit the Susan G. Komen for the Cure of Northwest Ohio.
The Rockets encourage everyone in attendance to wear pink in support of cancer research.
Groups that purchase 15 or more tickets may do so for only $6 each. The first 500 group tickets purchased will also receive a free "Rockets for the Cure" commemorative T-shirt.
Tickets also will be sold for a raffle throughout the game. Immediately following the contest, guest emcee Chrys Peterson will host a live auction for the UT players' white game jerseys with pink numerals.
Last season, Toledo raised a record $19,845 for Susan G. Komen for the Cure, surpassing the previous year's total of $18,010.
Click to access the login or register cheese