Chinese New Year celebration scheduled for Feb. 17
---
The Confucius Institute invites the UT campus and Toledo community to celebrate the Chinese New Year with fun and educational activities Tuesday, Feb. 17, from 11 a.m. to 3 p.m. in the Student Union Auditorium.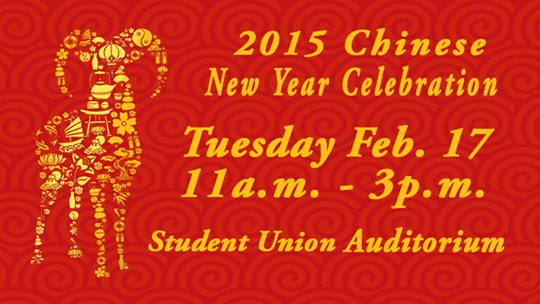 Highlighted performances will take place from noon to 1:30 p.m. and feature tea art, an interactive demonstration of the Chinese martial art Taiji, Chinese opera, Chinese abacus calculation, and music by Chinese and Western instrumental ensembles.
Those who attend can engage in several activities: art projects, including making Chinese bracelets, painting paper lanterns, and paper cutting and folding; making dumplings; and bamboo dancing.
There also will be an Asian flea market to check out, as well as an information session on studying abroad in China.
Free T-shirts and lucky bracelets for people who were born in the year of the sheep/goat/ram (1955, 1967, 1979, 1991, 2003, 2015) will be available; proof of birth date required.
The Chinese New Year is the longest and most important holiday celebration in the Chinese calendar. In China, the New Year is a time of family reunion. Family members gather at each other's homes for visits, shared meals and to renew ties.
The Confucius Institute serves northwest Ohio by providing education in Chinese language and culture, and supports the development of China-related scholarly research and academic programs. It also offers opportunities for cultural exchanges between China and the United States.
For more information about the Chinese New Year celebration, call the Confucius Institute at 419.530.7750.