Sigma Tau Delta to host Post-Valentine's Day Poetry Reading Feb. 15
---
The UT chapter of Sigma Tau Delta, an international honors English society, will host a Post-Valentine's Day Poetry Reading Thursday, Feb. 15, at 6 p.m. in Memorial Field House Room 2420.
Attendees will have the opportunity to read their own poem, read someone else's, or just listen.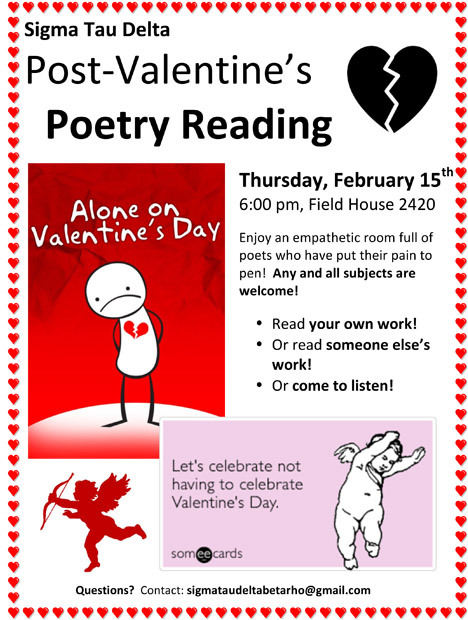 The open-mic environment will allow attendees to express their anti-Valentine's Day poetry, but any and all subjects will be welcomed.
"Our event's title, Post-Valentine's Poetry Reading, is meant to reflect our event's theme," said Theresa Northcraft, secretary of the UT chapter of Sigma Tau Delta. "We are playing with the stereotype of poets and poetry, satirizing overdone, bleeding-heart love poems in a fun, safe room full of empathetic peers. We've picked the day after Valentine's Day to capture the essence of our anti-message."
The free event is open to all UT students and aims to assemble and establish Toledo's community of English enthusiasts and aspiring creative writers.
For more information, contact Sigma Tau Delta at sigmataudeltabetarho@gmail.com.