Gala to share Chinese culture, celebrate Year of the Monkey
---
The University of Toledo Confucius Institute will continue celebrating the Year of the Monkey through traditional and modern Chinese performances at the Spring Festival Gala Thursday, Feb. 18, from 5:30 to 7 p.m. in the Student Union Auditorium.
Zhe Wang will take part in the merriment through dance at the free, public event.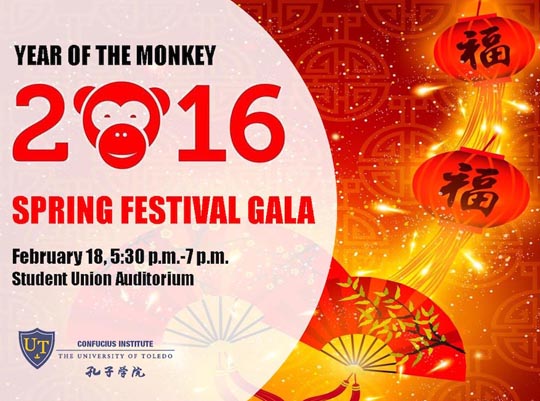 Wang, a sophomore finance student, will perform in two of the 12 dance, song and instrumental performances by UT students, Toledo Public School students, and additional students of the Confucius Institute.
Her first dance will be a modern pop dance, and the second a traditional dance called Yong Chun. Wang explained Yong Chun is a fan dance developed almost 2,000 years ago during the Han dynasty. Dressed in cheongsam, a Chinese cloth, Wang will perform with a lace fan to upbeat music played by traditional Chinese instruments, combining modern and traditional aspects of the culture.
"I feel so excited and happy to perform at the gala," she said. "I love dancing very much, and I often learn some new dances and do some simple practices in my spare time."
Yuan Hu, a first-year PhD student majoring in mechanical engineering, also will perform, but through song. Hu will sing or"Fading Fireworks."
"I think it's great to sing on stage at the gala," Hu said. "I am so happy that I have the chance to show my Chinese culture to the audience."
A free buffet dinner featuring dumplings, spring rolls and other Chinese delicacies also will be available served.
The gala is part of the two-week celebration of the Chinese New Year, a festival marking the start of a year beginning on the second new moon after the winter solstice and ending on the full moon 15 days later.
"A lot of people only have a basic idea of what China is like, but that's definitely not all," said Xinren Yu, international programs coordinator in the UT Center for International Studies and Programs. "The Confucius Institute is that ultimate resource to set the right message about what the real China is like and provide opportunities for people to explore and learn."
For more information, contact the Confucius Institute at 419.530.7750 or confuciusinstitute@utoledo.edu.