Ward M. Canaday Center acquires historical records of Dana Holding Corp.
By Staff : February 18th, 2010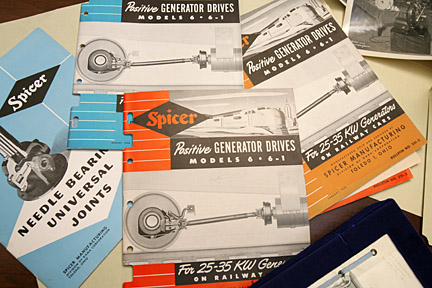 The University of Toledo's Ward M. Canaday Center for Special Collections recently added approximately 180 linear feet of records documenting the history of the Dana Holding Corp. to its holdings.
The collection joins those of other major Toledo corporations preserved in the Canaday Center, which keeps the records of Libbey-Owens-Ford, Owens-Illinois Inc., Owens-Corning and Toledo Scale, according to Barbara Floyd, director of the center.
"This is a wonderful addition to our collections documenting Toledo business and industry. The collection should prove valuable to researchers interested not only in Toledo's history, but the history of the automobile industry nationally and internationally," Floyd said.
The Dana collection documents the company from its founding in 1904 by Clarence Spicer to recent years. The materials were previously stored at a facility in Virginia, but Dana decided recently to relocate them to the local area where the company has been headquartered since 1929. "It is wonderful that our community's history is back in Toledo," Floyd added.
The collection includes administrative materials, company publications, advertising and sales materials, public relations files, photographs and a few artifacts. Of particular interest is the original patent for Spicer's universal joint from 1903 that was the basis for the company's founding.
Prior to Spicer's development of the universal joint, automobiles transmitted engine power to the wheels through two sprockets connected by a chain. The system was loud and unreliable, and frequently broke down because it was difficult to lubricate. Spicer, who was attending engineering school at Cornell University at the time, developed a system that employed a universal joint at each end of a tubular shaft. The joints were encased in a housing to retain lubrication and shield it from road debris.
While the universal joint has existed since the 1500s, Spicer's improvements were immediately recognized by the fledging automotive industry as important to improving sales of their products. Many contacted Spicer seeking permission to manufacture the system, but Spicer decided to open his own plant in Plainfield, N.J. Soon manufacturers began to redesign their autos to accommodate Spicer's ever-improving designs.
During his life, Spicer was issued 27 U.S. patents and five French patents.
But for Spicer, the success of his products meant difficulties in keeping up with demand. He needed to expand, but lacked the capital to do so. In 1913, Charles Dana, a prosecuting attorney from New York who was the grandson of the man who founded the New York Sun newspaper, lent the company $15,000. Within two years, Dana owned nearly half the company and became president.
By 1929, three automobile manufacturers were dominating the American car market — Ford, Chrysler and General Motors, all of them located in Detroit. To be closer to its main markets, Dana moved that year from New Jersey to a new complex on Bennett Road in Toledo. While the Depression dampened demand, the outbreak of World War II led to the need for military vehicles. Most importantly, Spicer Manufacturing produced the transfer cases, universal joints, propeller shafts, and front and rear axles for Willys-Overland's General Purpose, or Jeep, war vehicle.
At the end of the war, the company changed its name in recognition of the person who served as president for 32 years, Charles Dana.
The company continued to expand and diversify. Between 1966 and 1979, Dana's sales grew from $450 million to more than $3 billion annually. In the 1970s, the company became known for its innovation and unique leadership style under president Rene McPherson. It was under McPherson that the company's corporate headquarters moved out to Dorr Street across from the Inverness Country Club.
In the past 10 years, the downturn in the North American automobile industry has clearly impacted the company. In March 2006, Dana's U.S. operations filed for Chapter 11 reorganization. Dana successfully emerged from Chapter 11 in February 2008 with a new board of directors, a new chairman, and a renewed focus on returning the company to a leadership position in the global vehicular supply industry.
Last year, Dana sold its headquarters building on Dorr Street to another Toledo-based company and relocated its corporate staff to its technical center in Maumee.
Because of the company's recent changes, Floyd said it was even more important to preserve its history. "When companies undergo major transitions, many fail to see the importance of their history and just discard their historical materials as irrelevant. We are pleased that Dana has recognized how important the company has been to our community and has chosen instead to preserve its history."
When the collection is eventually organized, it will be made available to researchers in the Canaday Center.