Rockets to host tailgate party between basketball doubleheader Feb. 23
---
Fans attending the basketball doubleheader at Savage Arena Sunday, Feb. 23, can experience the "Ultimate Rocket Tailgate" between the women's and men's games.
The UT women will host Western Michigan at 2 p.m., while the men will face Ball State at 6.
For just $10 ($9 in advance), fans can attend an all-you-can-eat buffet in the Fetterman Gymnasium in Savage Arena from 4 to 6 p.m.
The buffet will feature a complete hot dog bar and a nachos bar, as well as beverages and cookies.
For pre-sale reservations, call 419.530.4040 or click here.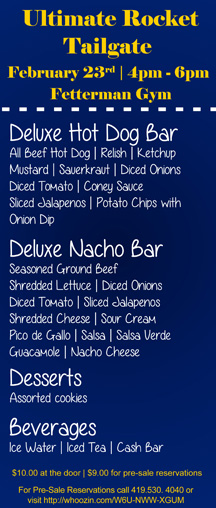 Click to access the login or register cheese