Boogie-woogie pianist to play scholarship concert
---
Bob Seeley exudes enthusiasm talking about music. It's as much fun listening to his stories as it is hearing the boogie-woogie pianist bounding up and down the keyboard.
He was recalling growing up in Detroit, where he'd ride his bike three miles to the former Club Alamo and Baker's Keyboard Lounge to learn from the best.
"At the Alamo, I'd sit there in the dining room and listen to Art Tatum play the piano," Seeley said. "Art would not allow any service by the waitresses or any talking. He was actually giving a concert, and he wanted everything quiet.
"If people were talking at the table and not listening, he'd play his music very, very slow and lean over toward them; when they'd feel the pressure and other people would look and they'd stop, then he'd take off again."
Seeley had the finest seat in the club — on the legendary pianist's right side.
"I could reach over and touch him, that's how close I was. I was just watching him play," he said. "He was an absolute piano genius."
Music fans can hear more stories about the Toledo legend when Seeley performs at the Art Tatum Memorial Jazz Scholarship Concert Tuesday, Feb. 26, at 7 p.m. in the Center for Performing Arts Recital Hall.
It'll be a treat when Seeley sits down on the piano bench.
"I'm going to play stuff by Meade Lux Lewis, Albert Ammonds and Pete Johnson, the top-notch boogie-woogie piano players. I'm probably the last man standing who not only plays boogie-woogie but who saw those three perform," the 84-year-old said during a call from his winter home in Bradenton, Fla.
"I'm also going to play some stride piano, get in some blues, some gospel."
Thanks to some sibling rivalry, Seeley started taking piano lessons at age 13: "My older brother started to sound pretty good, so I wanted to play," he said.
Two years later, he discovered that energetic, upbeat sound.
"Boogie-woogie is blues-based and it was very exciting. I call it happy blues. It was very rhythmic; it was solo. The left hand did all the rhythm," Seeley said. "The feeling of the stuff grabbed me. I was very hot to play that."
He still loves to hit the keys — and stoke the fire.
"I call [boogie-woogie] America's forgotten music because you don't hear it anymore," Seeley said.
He and pianist Bob Baldori are profiled in the 2012 documentary "Boogie Stomp!"
"We sent it to the Clint Eastwood Carmel Film Festival; they get 2,000 submissions and they pick up 20, and we were one of the 20," Seeley said. "We didn't get to meet Clint; he was down in LA making a movie."
But over the years, Seeley has met many celebrities, thanks to his 32-year gig as the pianist at the former Charley's Crab restaurant just outside of the Motor City.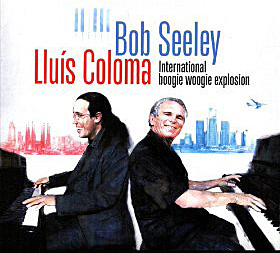 "I met Bob Hope, Dinah Shore, Kid Rock and Pamela Anderson. I got three kisses out of Pamela Anderson one night, that was pretty cool," he said. "It was a good musical career. I'm still doing it."
Last year, he and pianist Lluis Coloma released the disc, International Boogie Woogie Explosion.

Tickets to see Seeley are $15 for the public and $5 for students, seniors and UT faculty and staff, and will be available at the door the night of the performance.
The concert is a benefit for the Art Tatum Memorial Jazz Scholarship Fund, which assists musically gifted African-American undergraduate music majors, preferably jazz pianists. The scholarship was established in 1994 and endowed in 2002 by several donors, including the Art Tatum Jazz Heritage Society.