Rocket Wellness hosting Health and Safety Expo
February 21, 2018 |
UToday
By Staff
---
Rocket Wellness will host the 2018 Health and Safety Expo Tuesday, Feb. 27, from 2 to 6 p.m. in the Thompson Student Union Auditorium.
This event is free to all students, faculty and staff with the goal to educate about the various programs, services and opportunities available that can support overall well-being.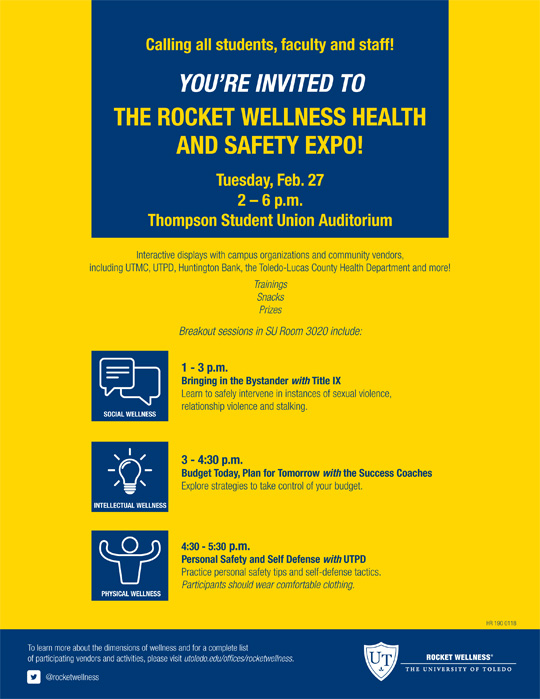 "With spring break right around the corner, our intention is to educate the UT community on safety procedures, as well as give them tools to enhance their overall wellness," said Jocelyn Szymanski, wellness administrator for Rocket Wellness.
Representatives from more than 20 campus organizations and community vendors will be present to highlight various health and safety information, such as nutrition, mental health resources and financial well-being. A distracted driving simulator, information on Narcan, and hands-only CPR training are some of the interactive tables that will be part of the event.
Three breakout sessions for more in-depth training will be held in Thompson Student Union Room 3020. Space is limited at the sessions and is available on a first-come, first-seated basis. The sessions are:
• Bringing in the Bystander Training from 1 to 3 p.m. Learn how to safely intervene in instances of sexual violence, relationship violence and stalking.
• Budget Today, Plan for Tomorrow from 3 to 4:30 p.m. Learn from a financial expert how to take control of your budget.
• Personal Safety and Self-Defense Class from 4:30 to 5:30 p.m. Participants will learn personal safety tips for home, office, school, and going out and about, as well as self-defense tactics in a safe and relaxed setting. Participants should wear comfortable clothing and tennis shoes. 
Rocket Wellness is also launching its Rocket Your Way to Wellness Passport at the expo. This passport will provide participants an opportunity to complete a variety of wellness activities to improve their well-being and, in turn, be eligible for prizes.
"We are excited about using this event as a launch pad to engage our UT students, faculty and staff and improve the wellness of our campus community," Szymanski said.
Snacks from UT Dining Services, giveaways and prize opportunities will be available.
More information can be found here.