Public defenders fighting for justice topic of March 12 lecture
---
Christopher Flood, an attorney with Federal Defenders of the Southern District of New York, will discuss "Principles, Privilege and Power: Public Defenders and the Struggle to Define American Justice" Monday, March 12.
His free, public talk will take place at 7 p.m. in Libbey Hall.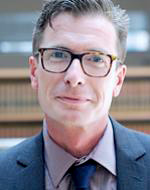 "Christopher Flood has dedicated his career to criminal defense, the defense of indigent persons, and advocacy for public defenders," Dr. Renee Heberle, UT professor of political science, said. "He will discuss the erosion of the constitutional right to a competent defense for all persons accused of criminal activity. He will address what has to happen to fix the broken systems through which we adjudicate harm. Mr. Flood's experiences on the frontlines give him unique insight into the complex problems of criminal justice in the 21st century."
In addition to his work with the Federal Defenders of New York, Flood is an adjunct professor of law at New York University, where he teaches the Federal Defender Clinic.
Prior to moving to the Empire State, Flood was a staff attorney at the Public Defender Service for the District of Columbia, and he was the deputy chief defender and interim chief defender at the Orleans Public Defenders in New Orleans.
While in law school at New York University, Flood was an intern at the NAACP Legal Defense and Education Fund, and at the Neighborhood Defender Service of Harlem.
He received a bachelor of arts degree in social thought and political economy and a master of science degree in labor studies from the University of Massachusetts. His juris doctor is from New York University.
Flood's talk is sponsored by the College of Law and the Program in Law and Social Thought.
For more information, contact Heberle at renee.heberle@utoledo.edu.