World Lymphedema Day event to provide education, support
---
There are more than 200,000 cases of lymphedema reported in the U.S. every year, but many women still do not receive proper instruction on how to manage the disease.
"It can be developed at any time," said Renee Schick, manager of the Renee's Survivor Shop and breast cancer survivor. "Mine started about six years after my surgery and treatments."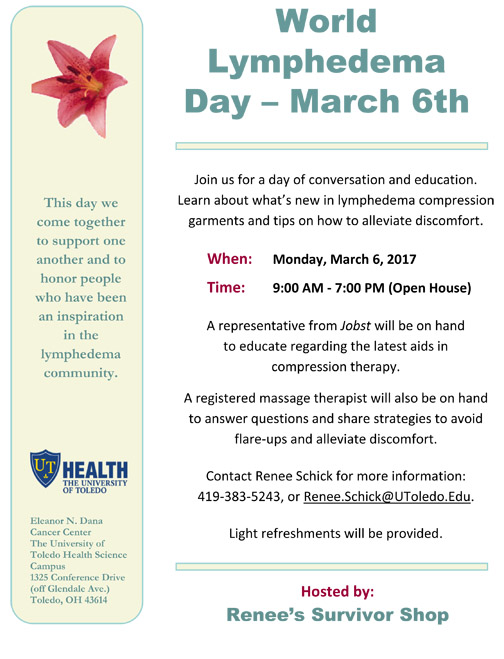 Lymphedema is a disease that results from the lack of lymphatic drainage, causing swelling of the extremities. The condition is most often caused by lymph node removal or damage due to cancer treatment.
While the uncomfortable symptoms associated with the disease sometimes go unnoticed, Schick warns of the dangers of letting lymphedema go untreated.
"Lymphedema is a condition that can be managed," she said. "If it is not managed, it will continue to get worse and could have major complications."
Lymphedema is a chronic, incurable disease that may even lead to disfigurement if the person affected does not commit to the long-term self-care.
Those who are interested in learning more about the disease and who may be looking for products to help manage the condition are invited to attend the World Lymphedema Day event hosted by Renee's Survivor Shop.
World Lymphedema Day is Monday, March 6. The event will be open-house style from 9 a.m. to 7 p.m. in the Survivor Shop in the Eleanor N. Dana Cancer Center on the UT Health Science Campus.
"Jobst representatives will have a display of new compression products, compression bras, lymphedema bracelets, swell spots and more," Schick said. "We will have a lymphedema therapist at the event between 2 and 4:30 p.m. to answer questions."
For more information, contact Schick at renee.schick@utoledo.edu or 419.383.5243.