Provisions on Demand Market opens in Carter Hall
March 4, 2009 |
UToday
By Shannon Wermer
---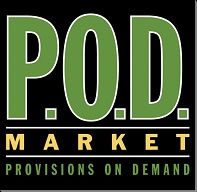 POD — Provisions on Demand — Market is now open in Carter Hall on Main Campus.
POD reinvents the campus store experience by blending the features of quick convenience with modern market-style and service featuring items like bulk candy, gallons of milk and all-natural frozen meals, as well as batteries and one-dose packs of Tylenol.
It also offers grab-and-go meal replacements, such as lasagna and macaroni and cheese. Additionally, there will be quick, portable menu options, including a gourmet express program of salads, wraps, parfaits, desserts and side salads, that will be featured daily.
According to Nicole Milliken, marketing coordinator for Dining and Hospitality Services, UT's first POD is only the third market in the nation.
"POD promises to meet demands for attention, choice, fair pricing and fresh menu items," she said.
POD is open Monday through Friday from 8 a.m. to 7 p.m. and is closed Saturdays and Sundays.
A grand opening celebration and open house will take place Thursday, March 5, from 11 a.m. to 2 p.m. Samples from the POD menu will be provided, and there will be giveaways and prizes courtesy of Pepsi, Nestle, Java City and Aramark Higher Education Convenience Retailing. Dr. Kaye Patten Wallace, UT vice president for student affairs, will participate in a ribbon-cutting ceremony at noon.
For more information on POD, visit www.utoledo.campusdish.com or contact Milliken at 419.530.8467.