UT fans: It's MAC Tournament time
---
See you at the Mid-American Conference Tournament! The UT Alumni Association is sponsoring pregame parties before all MAC contests involving the Rockets this week.
The pregame parties will begin two hours prior to the tip-off of each game and be held at Harry Buffalo, 2120 E. 4th St., Cleveland, just across the street from Quicken Loans Arena.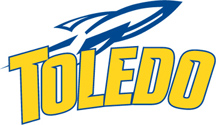 A pregame party is scheduled for Thursday, March 8, at 4:30 p.m., before the men's quarterfinal game at 6:30 p.m.
A member of the Rockets' coaching staff, the UT Marching Band and the UT cheerleaders will be at the party.
Admission to each pregame event is $15 per person. Reservations are appreciated, but not required; walk-ins are welcome.
The all-you-can-eat menu for March 8 will include buffalo chicken egg rolls, fried ravioli, sheet pizzas, chicken salad croissants, and a house salad. Soft drinks and iced tea are included with the meal, and a cash bar will be available. 
To register for the pregame party, click here or call the UT Office of Alumni and Annual Engagement at 419.530.2586 or 800.235.6766.