Students encouraged to get ahead by registering early for fall semester
March 11, 2019 |
UToday
By Meghan Cunningham
---
The University of Toledo is encouraging students to plan ahead and register early for fall 2019 for a chance to win a gift card to help fuel them through their finals.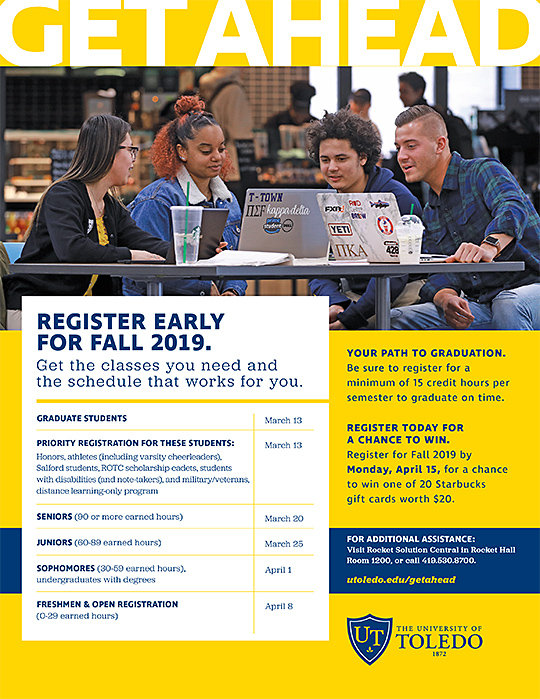 "The earlier students register, the more likely they will be able to take the courses they want at the times that work best in their schedules," Interim Provost Karen Bjorkman said. "Even if students are still waiting to hear back about a co-op placement or an internship they applied for, they should register for the next semester to be sure they stay on track. It is easier to adjust a plan already in place than to be behind schedule at a later date."
Registration for fall semester begins Wednesday, March 13, with priority registration available for honors students; graduate students; student-athletes, including varsity cheerleaders; ROTC (all contracted ROTC cadets); Salford University students; students with disabilities; Student Disability Services volunteer note-takers; military/veteran students; and distance-learning-only students.
Additional registration dates are ordered by class rank. Dates are:
• Wednesday, March 20 — Seniors (90 earned hours or more);
• Monday, March 25 — Juniors (60 to 89 earned hours);
• Monday, April 1 — Sophomores (30 to 59 earned hours) and undergraduates with degrees; and
• Monday, April 8 — Freshmen (0 to 29 earned hours).
As part of a campaign to get more students registered for fall classes before the end of spring semester, the University is offering all current students who register before Monday, April 15, the chance to be entered to win one of 20 Starbucks gift cards worth $20 each.
"Our top priority is student success, and planning ahead is critical for students on a successful path to graduation," Vice President for Student Affairs Phillip "Flapp" Cockrell said. "We're launching this campaign to change the culture here for students and all of us who support students. We want students to focus on doing well now, but also to be thinking ahead about what comes next and planning well in advance to meet those goals."
Regardless of when a student registers for fall semester, tuition is not billed until July.
Academic advisors are available to help students plan their course of study. Students are encouraged to aim for 15 credit hours per semester to graduate on time. Most degree programs require 120 total credit hours or more to graduate.
Students who are unsure of who their academic advisor is or who are considering a change of major may contact the Center for Success Coaching at 419.530.1250 for support and assistance.