Day of Giving Makes an Impact April 7-8
---
The University of Toledo alumni, faculty and staff members, students, and friends will come together next month to support the University's fourth annual Day of Giving.
The 36-hour campaign will begin at 12:01 a.m. Wednesday, April 7, ending at noon Thursday, April 8, in a change from its traditional fall date.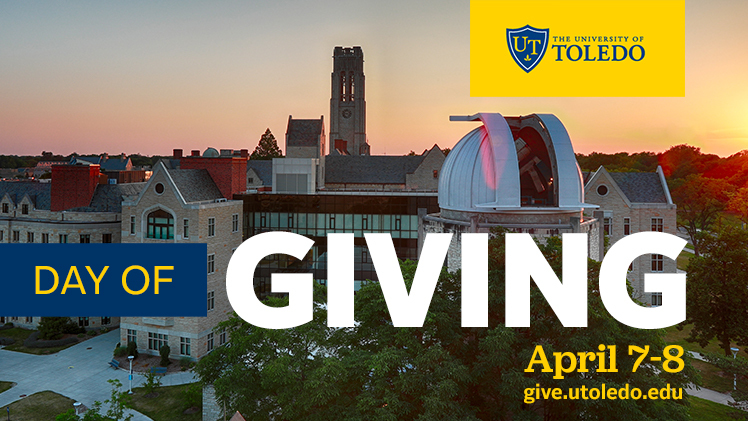 "I'm excited to make my personal contribution to this campaign, because as we emerge from the COVID-19 pandemic, the needs of college campuses have never been greater," UToledo President Gregory Postel said. "This is a terrific opportunity for us to be able to grow and improve our programs."
Gifts may be designated to any of the more than 2,000 University of Toledo Foundation funds available, supporting the causes and programs Rockets care about most. Every donor and every dollar will make a difference in support of scholarships, athletic and educational programs, research, healthcare and community services.
Early donations still count toward Day of Giving, and payroll deduction is available for UToledo employees through Tuesday, March 30. All faculty and staff who participate will be eligible for a special gift at the conclusion of the campaign. Visit give.utoledo.edu for the payroll deduction form, FAQs, giving options and for more information.
Participation is an important goal for Day of Giving, which aims to encourage as many people as possible to support the University. Gift matches and challenges are ideal options, as they double a donation's investment and impact. Challenges and matches will be posted on the give.utoledo.edu website throughout the campaign.
In 2019, the campaign raised $859,990 from 2,778 donors — including many students and first-time contributors.
Supporters are encouraged to use #RocketForward on their social media accounts throughout the campaign to share their UToledo spirit, spread the impact of Day of Giving and highlight the students, programs or colleges about which they're most passionate.