Three men's basketball players recognized by conference
---
Junior guard Rian Pearson was named First Team All-Mid-American Conference, and sophomore guard Julius Brown earned third-team All-MAC honors, as voted on by the league's 12 men's basketball coaches.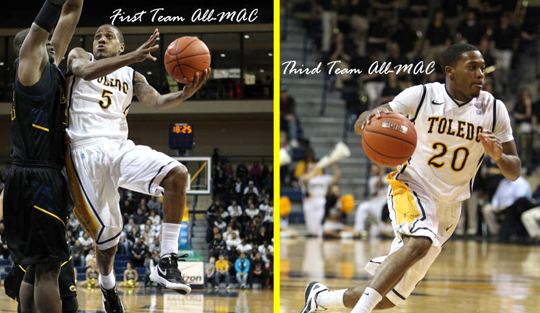 In addition, freshman center Nathan Boothe was named to the MAC's All-Freshman Team.
Pearson, who received second-team all-league honors a year ago, is the first Rocket to earn first-team accolades since Justin Ingram in the 2006-07 campaign. He ranks second in the conference in scoring (17.9 points per game), fifth in steals (1.7 steals per game) and eighth in rebounds (6.8 rebounds per game). Pearson concluded the season with a career-high 14-game streak of scoring in double figures and led UT in rebounding and scoring on a team-high 15 and 13 occasions, respectively. He also became the 41st Rocket to score 1,000 career points and has 1,091 points in two seasons (17.0 points per game) to rank 37th all-time.
Brown, the 2011-12 MAC Freshman of the Year, followed up a stellar rookie campaign with an even more impressive second season. Brown, who paced the conference in league play with 6.9 assists and a sparkling 2.9 assist turnover ratio, ranks second in the MAC in assists (6.0 assists per game), fifth in assist/turnover ratio (1.9) and 10th in scoring (13.1 points per game). The first Rocket to average five or more assists per game since Keith Wade tallied 6.0 assists per game in 1990-91, Brown capped off his season Saturday with his fourth career double-double. He tallied 19 points, a career-high 12 assists and three steals in a 78-67 triumph at Eastern Michigan to help UT tie Western Michigan for first place in the West Division.
Boothe is the 12th Rocket to receive All-Freshman laurels and gives UT a MAC All-Freshman Team member for a second straight year. A starter in all 28 games, Boothe averaged 8.3 points per game and ranked second on the team with 5.2 rebounds per game. He is sixth in the conference with a team-high 1.5 blocks per game with his 42 rejections ranking fourth in school history.
Toledo completed its 2012-13 campaign with a 15-13 win-loss mark for its second-straight winning season. The Rockets also posted a 10-6 league ledger for their most conference victories since posting a 14-2 record en route to winning the 2006-07 MAC regular-season title.