'Spring into Better Habits' this week
March 12, 2018 |
UToday
By Alyssa Jane Slottke
---
University Libraries is sponsoring a challenge for faculty, staff and students: "Spring Into Better Habits" is taking place Monday through Friday, March 12-16.
Pick up a bingo card at four locations on at the University — Morse Center, Student Recreation Center, Mulford Library and Carlson Library — or at five of the Toledo-Lucas County Public Library branches — Sanger, Main, Heatherdowns, King Road, or Reynolds Corner.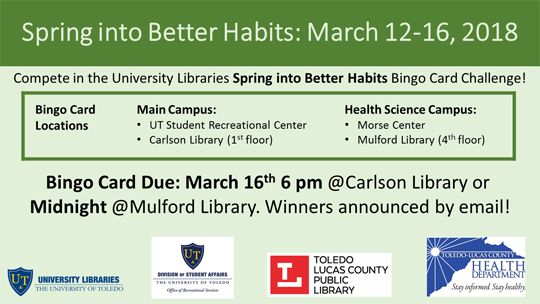 The goal of the challenge is to raise awareness about nutrition, healthy food options, fitness, and members of the community promoting these values.
Squares on the bingo cards include drinking water, walking, eating vegetables, visiting a Toledo Metropark, and downloading free music, movies, TV shows and e-books from Toledo Public Libraries.
Prizes are available.
Improve your hydration and get a Toledo-Lucas County Health Department Water Bottle by completing a minimum of six squares (two from each of the categories).
Towel off that perspiration with your own UT Office of Recreational Services Gym Towel by completing all the squares on the bingo card.
Submit your bingo card Friday, March 16, by 6 p.m. to Carlson Library (first floor) by midnight to Mulford Library fourth floor.
Winners will be contacted by email Monday, March 18. Winners will need a UT ID to collect prizes.
To learn more about the event, go to libguides.utoledo.edu/spring.
For more information, contact Margaret Hoogland at margaret.hoogland@utoledo.edu or call 419.383.4214.