Celebrated animator/illustrator to speak at Graduate Research Forum
---
Dr. Janet Iwasa, award-winning artist, will be the keynote speaker at this year's Graduate Research Forum.
She will discuss "Animated Biology" Thursday, March 21, at 3 p.m. in Collier Building Room 1000A/B.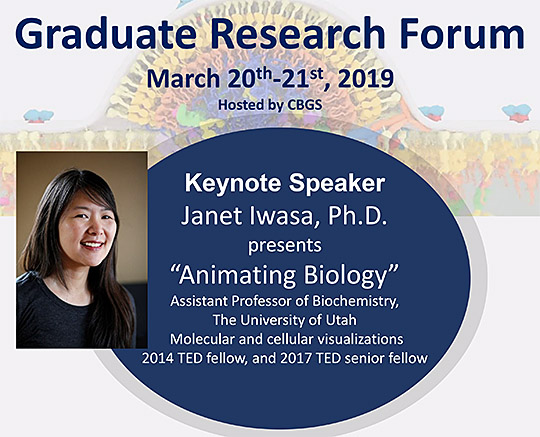 Iwasa is an assistant professor of biochemistry at the University of Utah and is known for her molecular and cellular visualizations. Her illustrations and animations have appeared in scientific journals including Nature, and Science and Cell, as well as in The New York Times. She is also a 2014 TED Fellow and 2017 TED Senior Fellow.
"Her illustrations and 3D animations have earned her publications in high-impact scientific journals," said Kelsey Murphy, a member of the Council of Biomedical Graduate Students. "In addition, she will be the first woman keynote speaker [for this forum]."
The event will begin at the Mulford Library Café Wednesday, March 20. Poster presentations will take place from 10 a.m. to noon, then there will be lunch from noon to 1 p.m., with oral presentations taking place from 1 to 4 p.m.
Final presentations will take place Thursday, March 21, from 9:30 to 11:45 a.m. in the Mulford Café, followed by lunch with Iwasa from noon to 1 p.m.
Those who wish to have lunch with Iwasa are asked to RSVP to councilgraduatestudents@utoledo.edu by Friday, March 15.