Toledo to host Big East member Syracuse in WNIT
---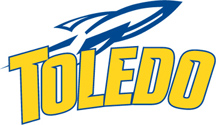 Toledo will host Big East member Syracuse in the fourth round of the WNIT Sunday, March 27. The opening tip is slated for 2 p.m. in Savage Arena.
The Rockets advanced to the Elite Eight of the postseason tourney for the first time in school history with home victories against Delaware, 58-55, March 16, Auburn, 67-52, March 19, and Alabama, 74-59, March 22.


Syracuse (25-9) qualified for Sunday's contest by virtue of wins against Monmouth, 77-53, March 17, St. Bonaventure, 63-50, March 21 and Mid-American Conference member Eastern Michigan, 72-63, March 24.


The Orange tied for seventh in the Big East standings with a 9-7 mark and feature an attack with four players averaging at least 9.5 points per game.


Syracuse is 5-7 away from home this season and is making its third-consecutive appearance in the WNIT under fifth-year Head Coach Quentin Hillsman.


UT and SU will be meeting for the first time. The Rockets are 15-19 (.441) all-time against teams from the Big East (2-8 vs. Cincinnati, 0-1 vs. Connecticut, 2-3 vs. DePaul, 0-3 vs. Marquette, 3-3 vs. Notre Dame, 3-0 vs. Pittsburgh, 1-0 vs. Providence, 1-1 vs. Rutgers, 1-0 vs. St. John's, 2-0 vs. West Virginia).
Toledo fans are asked to wear gold at the game to support the 2010-11 regular-season MAC Champions.
The Rocket Shop has gold "Cullop's Crew" T-shirts available for $10, as well as new gold Toledo Basketball T-shirts for $14.
Tickets for the game are $13 for adults, $6 for children 12 and younger, and $6.50 for full-time UT faculty and staff (limit two per employee).
UT students will be admitted free to the game with their student ID, courtesy of the Office of the President. UT students do not need to pick up tickets for the game; they can gain admittance by entering the student gate and showing their ID.
The winner of the Toledo-Syracuse contest will face Saturday's matchup pitting Charlotte and Virginia with the site and date to be determined. The other Elite Eight games are Southern Cal-Colorado and Arkansas-Illinois State.