Rockets Advance to WNIT Quarterfinals After Thrilling 92-82 Win
---
Junior Quinesha Lockett scored 21 of Toledo's 22 points in the fourth quarter on her way to a career-high of 37 in Thursday night's thrilling 92-82 win over Marquette in Milwaukee in the third round of the WNIT.
Toledo will now host Middle Tennessee in the quarterfinals of the WNIT on Monday, March 28, at 7 p.m. Tickets go on sale on Friday at 9 a.m.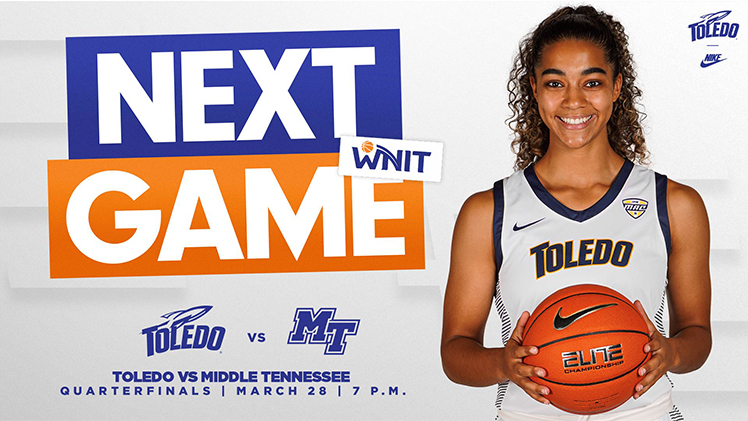 Fans may purchase their tickets online at utrockets.com/WNITtix, over the phone by calling 419-530-GOLD (4653), or by visiting the Rocket Ticket Office at Savage Arena.
The Rocket Ticket Office will also be open on Saturday and Sunday from 10 a.m.-2 p.m. and again on Monday beginning at 9 a.m.
The Rockets (29-5) led for much of the game, but trailed the Golden Eagles (23-11) 74-70 heading into the fourth quarter before Lockett took the game into her own hands. She proceeded to make 6-of-8 shots from the field and all seven of her free throw attempts to cap a marvelous 37-point night and propel the Rockets into the next round.
"I'm really proud of our players," head coach Tricia Cullop said. "We knew this was going to be a difficult matchup for us. Marquette is a very skilled team and they're well-coached. It took a valiant effort to win tonight. You could really tell how badly both teams wanted to win and I could not be more proud of our players for how well they kept it together when the momentum shifted. We never lost our confidence and we never lost our focus."
Toledo's 29 wins ties a school record for most victories in a season, matching win totals from the 2010-11 and 2012-13 squads. The 92 points UT scored on Thursday are a program record for most in a WNIT game and the most the team has scored against a Division I opponent since scoring 92 at Cleveland State on Nov. 19, 2016. The Rockets will now play in the quarterfinals of the WNIT for the first time since the 2011-12 season.
Lockett's backcourt mate junior Sophia Wiard provided Toledo with a gutty performance on Thursday night, scoring 20 points while tallying seven rebounds and six assists on 8-of-9 shooting. Sophomore Sammi Mikonowicz added 10 points and Khera Goss scored nine.
The Rockets shot 57.1 percent from the floor (32-for-56), tying a season high, and made a season-best 55.0 percent of their three-pointers (11-for-20). Marquette shot well also, making 34-of-75 shots, good for 45.3 percent.
Marquette was led by Chloe Marotta, who scored 28 points on 11-of-19 shooting. Karissa McLaughlin and Liza Karlen both added 18 points.
Tickets prices are as follows:
•  Elite: $21
•  GA: $17
•  UToledo Faculty/Staff/Youth: Half-off
•  UToledo Students: First 500 are free courtesy of the President's office ($6 after the first 500 are gone)
•  Student Guest Tickets: $9
As a benefit to Women's Basketball season ticket members, they will have first priority on their seat locations. Toledo season ticket members have until 5 p.m. on Friday to reserve their seats. Those seats can be purchased through their online ticket account at utrockets.com/STM or through the Rocket Ticket Office.