Faculty invited to workshop on engaging elected officials
March 28, 2018 |
UToday
By Meghan Cunningham
---
Faculty interested in learning more about engaging with state and federal offices are invited to a professional development workshop next week with the Office of Government Relations.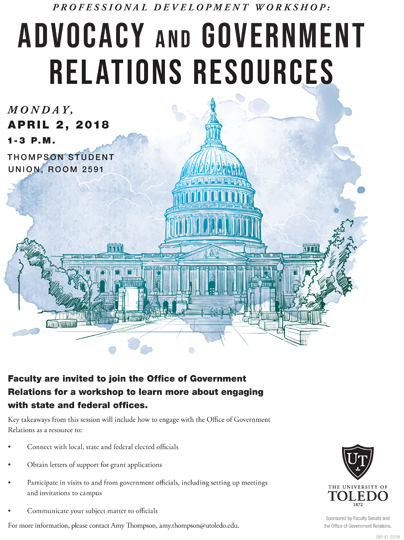 The Advocacy and Government Relations Resources Workshop will take place from 1 to 3 p.m. Monday, April 2, in Thompson Student Union Room 2591.
The session will cover connecting with elected officials in local, state and federal government; obtaining letters of support for grant applications; and effectively communicating subject matter expertise to officials.
"We appreciate this invitation from Faculty Senate to share the resources the Office of Government Relations can provide to our faculty members who are looking to advance their work and highlight the great talent on our campus," said Diane Miller, associate vice president for government relations.
For more information, contact Faculty Senate President Amy Thompson at amy.thompson@utoledo.edu.
Click to access the login or register cheese