Talk to examine history of Toledo Scale
---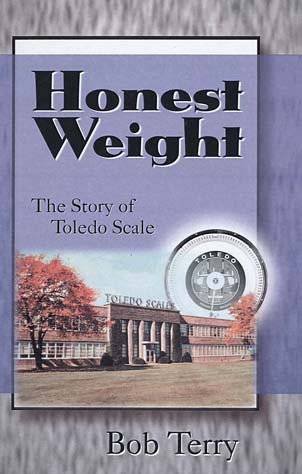 Bob Terry, author of Honest Weight: The Story of Toledo Scale, will talk about the history of that Glass City icon Wednesday, March 30, at 3 p.m. in the Ward M. Canaday Center for Special Collections in Carlson Library at The University of Toledo.
Terry, who worked as advertising manager for Toledo Scale and later for Mettler Toledo after the company merged and move to Columbus, published his history in 2000.
The book tells the story of how Toledo Scale was founded in 1898 by Allen DeVilbiss Jr. as the DeVilbiss Computing Scale Co. DeVilbiss developed a scale that was more accurate than other scales available at the time. Rather than depend on springs, DeVilbiss' scale employed a pendulum that used gravity to compute weight measurements.
In 1901, the company was purchased by Henry Theobald, who developed the slogan "No Springs, Honest Weight" as a way to market the company's technical advantage over other types of scales. Toledo Scale became an international company, and in many parts of the world, the name "Toledo" became synonymous with a dependable and accurate instrument of measurement. The company spread the city's name around the globe.
Terry's lecture is in conjunction with the Canaday Center's exhibition, "Wholly Toledo: The Business and Industry That Shaped the City."
The free, public exhibit is on display Monday through Friday from 8:30 a.m. to 5 p.m. through Friday, Aug. 12.
Two more talks related to the exhibit will take place next month. Bill Hamilton, a writer and media consultant who is the retired media relations leader of Owens Corning, will speak about the company Wednesday, April 6, and local historian Marjorie Waterfield will give a lecture about the history of the DeVilbiss Co. perfumizers Wednesday, April 13.
The series of talks and the exhibition are made possible in part by a grant from the Ohio Humanities Council, a state affiliate of the National Endowment for the Humanities.
For more information on the lecture and the exhibit, contact the Canaday Center at 419.530.4480.