Students: Register by April 6 to dance at RockeTHON
March 29, 2013 |
UToday
By Casey Cheap
---
The yearly philanthropic 13-hour bash formerly known as UT Dance Marathon got a makeover, which includes a new name.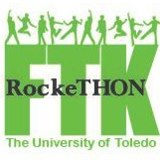 Dubbed RockeTHON, this year's dance marathon will be held from 10 a.m. to 11 p.m. Saturday, April 20, in the Student Recreation Center.
The event is going to be more aggressively promoted through Facebook and Twitter. The goal is to have about 1,000 people compete and raise $100,000.
Besides the name, the color scheme for RockeTHON has been changed from blue and gold to lime green, so it "doesn't get lost in the crowd," according to Price Murphy, RockeTHON director.
"We are currently on pace to beat last year's numbers," Murphy said. "Last year we had about 625 students participate in the event and raised just about $70,000."
All money raised is donated to the Children's Miracle Network, which disperses the proceeds locally to Mercy Children's Hospital.
"We are the largest student-run philanthropy on campus," Murphy said. "Since 2001, we have raised nearly $500,000. That is pretty impressive for an organization that has been around for just over a decade."
To make students realize the importance of the event, 23 families will share their miracle stories.
This year's activities will include live entertainment by local bands Halero and Clark and Danko. There also will be an obstacle course for teams composed of student organization members to compete for "spirit points," and there will be special prizes for those who accrue the most points at the end of the night.
And there will be a dance lesson each hour.
"By the time the 13 hours are up, everyone will know the whole dance," Murphy said. "An instructor will be teaching probably over 700 people at a time."
The theme of this year's RockeTHON will be "America in 13 hours," with sub-themes for different events: Wild West, military, rave and Hawaiian beach.
"The more people we have there, the more awareness we can raise for the families," Murphy said. "Whatever people can contribute is great."
The deadline to register for RockeTHON is midnight Saturday, April 6.
Students with inquiries can reach Murphy at price.murphy@rockets.utoledo.edu or check out Facebook.com/RockeTHON.