International dinner to take place April 6
---
The International Students Association will celebrate cultural diversity by hosting the 42nd annual international dinner with the theme, "The Masquerade Ball."
The dinner will take place Friday, April 6, at 6 p.m. in the Thompson Student Union Auditorium.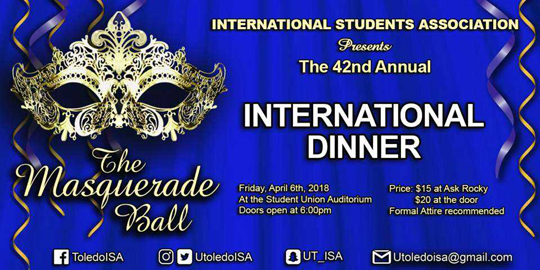 The event will begin with dinner, where attendees have the opportunity to try different cuisines from all around the world.
It also will feature traditional performances by all of UT's international student organizations.
Grisoranyel Barrios, vice president of the UT International Students Association, believes the performances will be extraordinary.
"The organizations spend all semester preparing for this night, so the performances are quite phenomenal," she said.
The event is a way for international students to showcase their countries and emphasize cultural diversity.
Awards will be given to the organizations, and new members of the International Students Association executive board will be announced.
With more than 500 students attending last year, the event brings the UT community closer.
"The international students are always proud and excited to be able to share their cultures with the UT community," Barrios said. "This event always seems to bring students from all spectrums of the University together, which is always a neat aspect and one that we want to continue to grow."
The International Students Association encourages more domestic student organizations to participate in the event.
"This event has a tremendous impact because it is an opportunity for students to share a glimpse of their home while being extremely far away from home," Barrios said. "Every year, I feel so proud of going to a university that so actively supports the international students in the way the UT community does."
Tickets are $15 in advance at Ask Rocky and will be $20 at the door.
Formal attire is recommended for the dinner.
For more information on the event, contact the International Students Association at utoledoisa@gmail.com.