Celebrate culture at African Night: The Royal Gala April 8
---
The purpose of the African People's Association is to bring together individuals who are from the continent or who are interested in African culture.
This year, to further that goal, the organization is hosting African Night: The Royal Gala.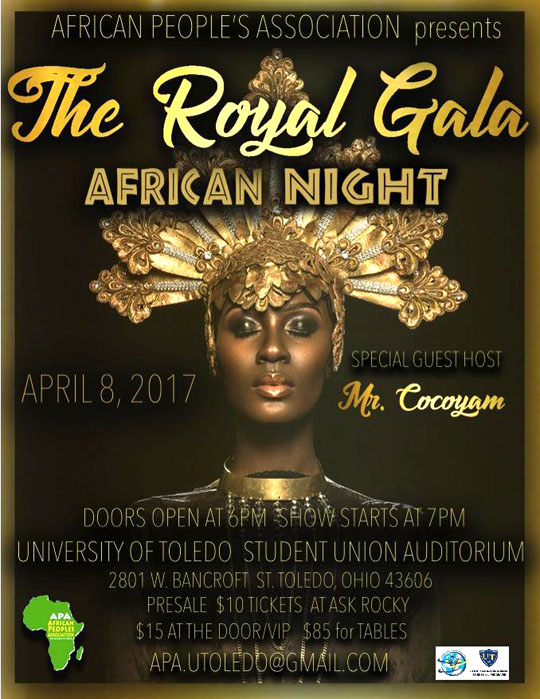 "African Night is essentially a celebration of African culture in one night. The purpose of the show is to showcase the highlights that are relatable to most cultures in Africa such as food, dance and fashion," said Nnenna Kalu, president of the African People's Association. "The show and other shows like it represent the beauty of Africa and the people, which draws in a diverse crowd of people every year."
The celebration includes a show consisting of song, dance, poetry and fashion put on by students.
Regarding "The Royal Gala," Kalu explained: "The purpose of this year's theme is to emphasize that we are all kings and queens in our own special way; therefore, we want everyone that comes to our show to feel like royalty."
The event, hosted by comedian Mr. Cocoyam, will be held Saturday, April 8, with doors opening at 6 p.m. and the show beginning at 7 p.m. in the Thompson Student Union Auditorium.
Regular and VIP tickets, $10 and $15 respectively, are available at Ask Rocky, located in the Thompson Student Union Trimble Lounge. Regular tickets at the door will be $15.
Tables at the event also are available for $75 and VIP tables for $85.
"For African students, faculty and staff, African Night is a great way to celebrate and share something unique about their culture. For non-African students, faculty and staff, the show will not only be entertaining, but can also serve as a learning experience," Kalu said.
For more information, contact apa.utoledo@gmail.com.