Rockets to hold football fantasy camp for UT students April 11
April 9, 2013 |
UToday
By Paul Helgren
---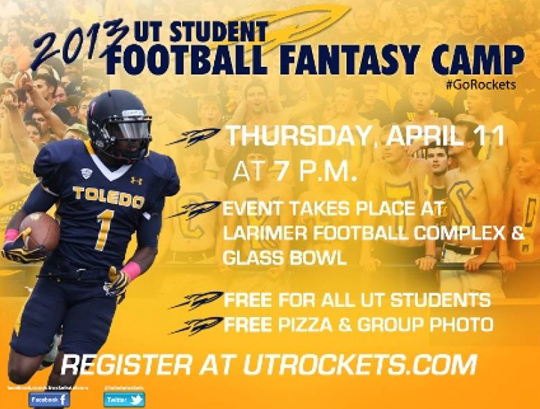 The University of Toledo football team will hold a special fantasy camp for UT students in the Glass Bowl Thursday, April 11, at 7 p.m.
There is no charge for the event.
UT students will get to tour the locker room and the Glass Bowl, sit in on a team meeting, and participate in drills with Rocket coaches and players.
The camp will run approximately two hours.
In the event of inclement weather, the camp will be moved indoors to the Fetterman Training Center.
UT students can sign up for the camp here.
Check in will be at 6:30 p.m. in the lobby of the Larimer Athletic Complex on the second floor. Students should dress properly and be ready for physical activity.
Click to access the login or register cheese