Women's golf team wins second tourney title of season
---
Toledo captured its second tournament title of the season Sunday with a three-stroke victory over Youngstown State at the Dolores Black Falcon Invitational.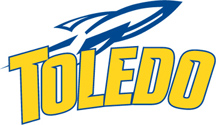 The Rockets carded identical rounds of 15-over par 303 each day to finish at 30-over par 606 at the par-72, 5,960-yard Stone Ridge Golf Club.
Junior Manisa Isavas paced the Rockets with a two-over par 146 to finish as the runner-up, one stroke behind individual champion Emily Dixon (74-71) of Youngstown State.
Junior Sathika Ruenreong also posted a top five showing at three-over par 147 (71-76), good for a third-place tie.
Rounding out the Rocket lineup were senior Stephanie St-Jean (78-78=156/T-16th), senior Jennifer Elsholz (80-78=158/T-21st) and junior Morgan Salm (82-77=159/T-27th).
Freshman Napaphan Phongpaiboon also tied for 27th place at 15-over par 159 (80-79) while competing as an individual.
"Today was a real battle out there, and it was fun to compete down the stretch for the tournament title," Head Coach Nicole Hollingsworth said. "Manisa and Sathika both had great tournaments, and it was good to see the entire team play well today."
Toledo will receive its final tune-up for the 2015 Mid-American Conference Championship when it travels to Columbus for the Buckeye Invitational Saturday and Sunday, April 18-19.