UT Chapter of Phi Kappa Phi Honor Society to initiate new members
April 15, 2013 |
Events
,
UToday
,
— Education, Health Science and Human Service
,
— Languages, Literature and Social Sciences
,
— Visual and Performing Arts
,
Business and Innovation
,
Engineering
,
Medicine and Life Sciences
,
Nursing
,
Pharmacy and Pharmaceutical Sciences
By Staff
---
The University of Toledo Chapter of the Honor Society of Phi Kappa Phi will hold its initiation ceremony for new members Sunday, April 21, at 1 p.m. in the Student Union.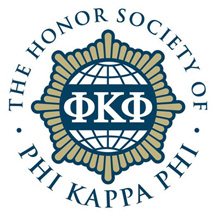 More than 100 undergraduate and graduate students and three UT faculty members will be inducted into the honor society this year.
Dr. Tom Barden, UT professor of English and the national Phi Kappa Phi Scholar for 2012-2014, will present the keynote address.
Inductees into the honorary are among the top students as juniors or seniors or in their graduate program to qualify for membership.
In addition to inducting new members, the society will honor three scholarship winners and the chapter's nominee for the national Phi Kappa Phi Graduate Fellowship Award.
The chapter is awarding three $500 scholarships this year. The winners were selected based upon academic performance, an essay and letters of recommendation from faculty members. The winners of the scholarships are Ryan Beckwith (Kent, Ohio), Kazem Majdzadeh (Toledo) and Hanan Saleh (Rossford).
Beckwith is a junior majoring in nursing. He works as a resident adviser in UT's residence halls and is active in the Student Nursing Association and Pi Kappa Alpha fraternity. He has assisted in the Perceptual Motor Development Clinic, where he worked with children with developmental disabilities to improve their motor skills. One of his recommenders noted that Beckwith displays an excellent work ethic and accepts responsibility. Another noted that he has the critical thinking skills, initiative and perseverance to be a successful nurse.
Majdzadeh is a doctoral student in the chemical engineering gradate program. Originally from Iran, Majdzadeh is active in research in polymer science and has published six papers in peer-reviewed journals. This year, he received a fellowship in the College of Engineering, and in 2011 he was noted for his work as an outstanding teaching assistant in the college. One of his recommenders stated, "Having seen his dedication so far, I have no reservations that he will do an excellent and commendable job in research during his time at UT."
Saleh is a junior majoring in exercise science. She serves on the Student Honors Council and as a student ambassador, and last year was captain of the women's tennis club. She volunteers for many organizations, including the Islamic Center of Toledo, and is a tutor in the UT Learning Enhancement Center. She recently was accepted into a special program for undergraduates that provides for early placement in the UT College of Medicine and Life Sciences, with a goal of becoming a physician. One of her professors noted that her approach in class made other students feel more confident and open to participating in discussion.
In addition to the local scholarships, each year one graduating senior is selected by the chapter for nomination for the national graduate fellowship, which provides $5,000 for graduate study. The UT chapter nominee this year is Zachary Henz, who will pursue a doctoral degree in pharmacy in UT's College of Pharmacy and Pharmaceutical Sciences next year.
Henz is not only a student in the competitive doctoral degree in pharmacy program, but also is an active volunteer with many groups, including the homeless, prisoners and the poor. He has completed missionary work in El Salvador and this summer will travel to New Zealand to volunteer in the health-care system of the native Maori people.
The winners of the national fellowship awards will be announced next month.
In addition to the undergraduate and graduate students who will be inducted into the honor society, three UT faculty members also will be inducted. They are Barbara Miner, associate professor and associate chair in the Department of Art; Dr. Dale Snauwaert, professor of philosophy and social foundations of education; and Dr. Hassan R. Hassabelnaby, associate professor in the Department of Accounting.
For more information, contact Wade Lee, associate professor of library administration and chapter president, at 419.530.4490.