Spotlight to shine on poetry set to music April 19
---
The University of Toledo Department of Music will present Carl Orff's "Carmina Burana" Sunday, April 19, at 3 p.m. in Doermann Theater.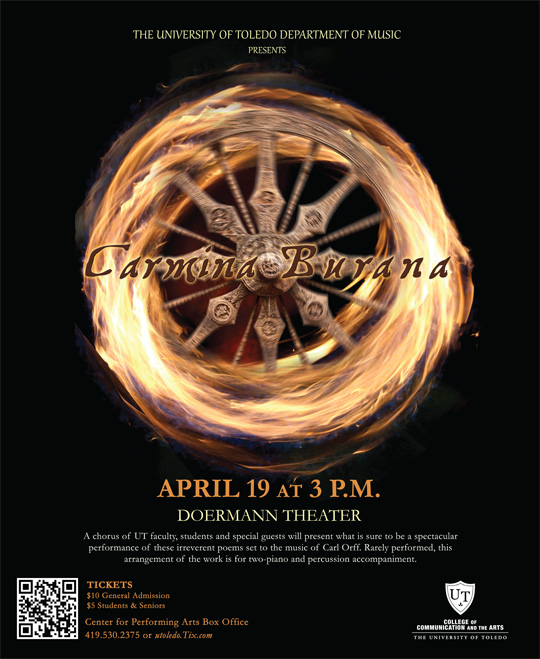 The name "Carmina Burana" refers to a large body of poems written in the Middle Ages as a form of rebellion against religion and social mores. Some poems mock the clergy, while others celebrate love and the return of spring, as well as drinking, gambling and other forms of mischief. The surviving manuscript contains more than 200 poems. Orff collected 24 of the poems and set them to music.
Taking the stage will be the University Concert Chorale and Community Chorus, and members of the Whiteford Agricultural High School Choir.
Soloists Dr. Denise Ritter Bernardini (soprano), Ryan de Ryke (baritone) and Eric Smith (tenor) also will perform. Bernardini, UT assistant professor of music, is director of the UT Opera Ensemble; de Ryke appears often the Chamber Opera Chicago; and Smith is a graduate student at Eastern Michigan University where he is studying choral music.
For the show, the arrangement for piano and percussion will be used. The music will be performed on two pianos by Christina Montri, UT graduate student in piano performance, and Phil Clark, who earned his master's degree in piano from the UT Department of Music.
Dr. Olman Piedra, UT assistant professor of music, and the UT Percussion Ensemble will accompany.
Tickets are available in advance or at the door for $10 for general admission and $5 for students and seniors 60 and older. Visit utoledo.tix.com or call 419.530.2375