Symposium on dizziness, balance slated for May 19
---
The UT Department of Neurology, ProMedica and the UT Center for Continuing Medical Education are hosting the Dizziness and Balance Symposium Friday, May 19, at the Hilton Garden Inn at Levis Commons in Perrysburg.
The program will take place from 8 a.m. to 5 p.m.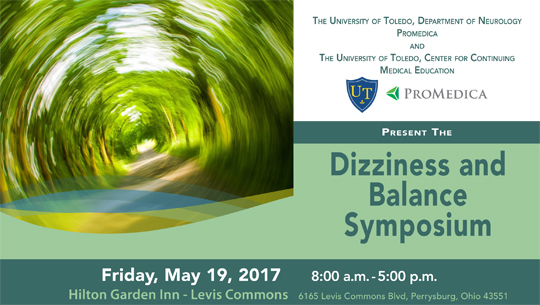 Dizziness and balance issues can be debilitating for patients, and it's important for health-care providers to recognize red flags and related symptoms as early as possible. Lectures and discussions will emphasize making pivotal decisions in clinical practice.
Neurologists; otolaryngologists; family, internal medicine, emergency medicine, physical medicine and rehab physicians; physician assistants; nurses; physical and occupational therapists; residents; students; and other hospital and extended-care facility staff are encouraged to attend.
The event costs $80 for physicians; $65 for other health-care professionals; and $25 for medical residents and students. The fee includes registration, breakfast, lunch and continuing education credit.
Deadline for registration is Friday, May 5.
For questions and registration, visit cme.utoledo.edu.