UT student helps plan local Drug Take Back Day
---
Got drugs? From 10 a.m. to 2 p.m. Saturday, April 26, you can safely dispose of unused and expired medications at the Toledo-Lucas County Health Department.
Drug Take Back Day is part of a national initiative of the U.S. Drug Enforcement Administration. The event at the local health department was planned by its intern Andrew Schneider, a second-year PharmD student at UT.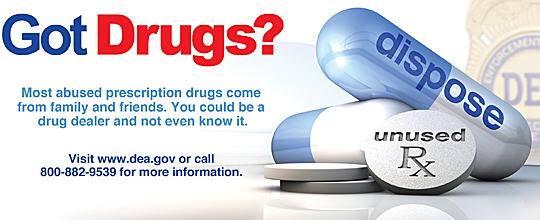 "By collecting the meds, we're preventing children from accidental overdoses, and we're taking dangerous drugs off the street," Schneider said.
The Health Department is located at 635 North Erie St. in downtown Toledo and will be accepting liquid medications, inhalers, ointments, lotions, narcotics, over-the-counter medications, medication samples and vitamins. It also will accept old mercury thermometers to be disposed of in environmentally friendly ways.
"Improperly disposing of medications and mercury thermometers can contaminate water and land, so it's important that people are aware that there is a proper way to dispose of them," Schneider said.
The Toledo-Lucas County Health Department can't take needles, syringes or lancets, according to Schneider, but those items can be put in a hard container labeled "sharps" and disposed of in regular trash. The Health Department also cannot take IV bags, hydrogen peroxide, aerosol cans or personal care products.
Each year the event is run by a second-year PharmD intern with guidance from the third-year intern who planned it the year before. Schneider credits his success in planning this year's event to the help from Sarah Dickey, the third-year intern, and Evelyn Schreier, the pharmacist who selected him as an intern.
"I love working at the health department," Schneider said. "It's been a great way to take what I've learned in school and apply it."
Another drug drop-off location will be at UT Medical Center, which is partnering with the UT Police Department for Drug Take Back Day. Medications will be collected from 10 a.m. to 2 p.m. Saturday, April 26, in the Emergency Department Lobby.