Pianist to 'Soothe' with new disc, book at Barnes & Noble appearance
---
Jim Brickman didn't realize how comforting his music could be until two years ago when he hurt his knee and needed an MRI. The technician cued up two of his discs, No Words and By Heart.
"I never listen to something after I've already recorded it because then it's out of me. I'll play it in concert, but I don't listen to the recording," he said. "There were a couple songs that I thought were beautiful."
Noting the irony, he said one that caught his ear in the machine was called "Open Doors."
While fans have escaped through his music for three decades, it was the first time he found solace in his serene sound.
That one-hour test made Brickman recognize it was time to admit it: He was a stress junkie.
It's true. The man with the tranquil blue eyes who looks laidback on dozens of CD covers and appears calm in concert said he used to freak out almost daily — until he made finding tranquility a priority.
His new project offers a soundtrack to relax to and advice on how to create quiet moments in stress-filled lives.
Brickman will play selections from Soothe — Music to Quiet Your Mind & Soothe Your World Volume 1 and read from a companion book, Soothe — How to Find Calm Amid Everyday Chaos, Wednesday, April 29, at 7 p.m. at Barnes & Noble University Bookstore at the Gateway. Fans are advised to arrive early for the appearance, which will include an autograph session and photo opportunity.
Wind chimes gently ringing, birds softly singing, and waves caressing the shore herald his shimmering piano playing on "Fly," the opening track of the new CD. You can almost feel the balmy breeze and smell the salty air.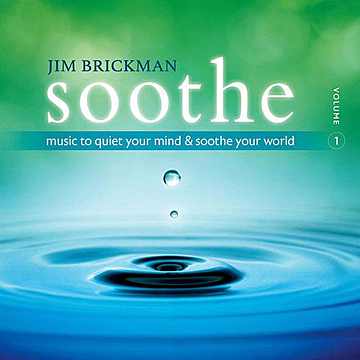 "For 'Fly,' if you really listen to that song, it's the most melodic on the album," he said. "It was a melody that I felt soared, and it was about that you could find your dreams and you could go after anything you want… I felt it was a very positive and hopeful message."
Since his 1994 debut, the Cleveland native has sold more than seven million records with songs that inspire, heal and comfort. He has collaborated with a long list of stars, including Martina McBride, Collin Raye, Jane Krakowski and Lady Antebellum. Brickman's bright key work radiates feelings of love and peace.
"I really do believe in accomplishing whatever you set your mind to do," the songwriter and author said. "Because once you do and you see that's possible and that it works, it changes the way you look at the world."
To help gain control of his hectic life and share that message with others, he contacted professionals he featured on his syndicated radio show, "Your Weekend With Jim Brickman," heard locally on 101.5 The River, to offer advice in the 192-page book. Chapters cover how to soothe your mornings, kingdom, family and relationships.
"I feel like almost everything in the book is relatable to most of us, especially for aging baby boomers, but especially the sleep [chapter]. Everybody I know is sleep-deprived or an insomniac; nobody says, 'Oh, I sleep great every night,'" he said and laughed. "What I started to do at night and in the morning is treat that differently and try to get better and more restful sleep."
This means putting away electronics. A little lavender doesn't hurt either.
"There's so much stimulation all the time — it's stimulation every second that you pick [the cell phone] up," Brickman said during a call from his Cleveland home. "And then when you go to sleep at night, it's a similar kind of thing because a lot of us take the computer to bed or are stimulated by TV or radio, and it's hard to fall asleep when you're stimulated by the electronics all the time."
Those who unplug and unwind with the pianist on UT's Main Campus may be treated to a spirited version of his first hit from 1994.
"'Rocket to the Moon' is actually about escape and it's about an idea about taking a break from your life," Brickman said. "Wouldn't it just be fun to escape and come back and go right back into your life where it is? So many of us are in such desperate need of alone time or just me time as I call it. It's very rare; not many of us have that in our lives."