Vote for Toledo Zoo through May 19
---
Many northwest Ohio residents remember visiting the Toledo Zoo as children, and some continue that tradition by taking their children and grandchildren to meet the animals in the Hippoquarium, Cheetah Valley and the Artic Encounter. Others brave the winter chill to see the Lights Before Christmas or spend warm summer evenings listening to Music Under the Stars.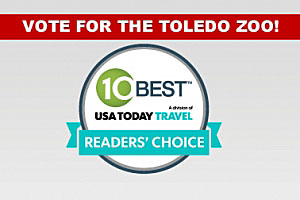 UT has long been a partner with the Toledo Zoo and is helping to spread the word about an effort to earn the local treasure some much-deserved national attention.
A beloved fixture in the Glass City for more than 100 years, the Toledo Zoo was named one of USA Today Travel's Top 20 Zoos in the Nation and is in the running to be voted "Best U.S. Zoo."
Using data supplied by the Association of Zoos and Aquariums, the top 20 zoos were chosen based on annual attendance, total acreage, admission fees, contributions to conservation efforts, number of supporting members, and recent awards.
Visit http://www.10best.com/awards/travel/best-us-zoo to show your support for the Toledo Zoo. You can vote once each day until noon Monday, May 19.