UT launches website for presidential search process
---
The University of Toledo launched a website today dedicated to keeping internal and external communities up-to-date on the search for UT's 17th president.
This site is at utoledo.edu/presidential-search.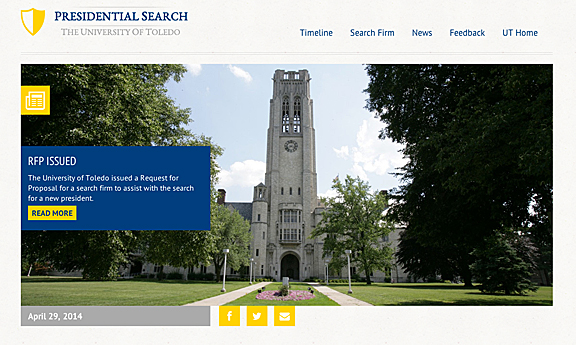 "The presidency of The University of Toledo is one of the most important roles in our region and a key figure in higher education," said Joseph Zerbey, chair of UT's Board of Trustees. "This website is a central location that faculty, staff, students, alumni and members of the community can visit to learn about the current stage of the search process and also scroll back in time to see each step along the way."
The website, designed by UT's Center for Creative Instruction, is constructed as a vertical timeline. The initial image viewers see is the most current event or piece of information and as new events take place, images are pushed down the screen. The result is an ability to see the entire process even as the website continues to be updated as more information becomes available.
"All UT constituencies will be represented on the search advisory committee, but we also wanted to create an interactive location where the entire community can have their voices heard," said committee co-chair Lawrence J. Burns, UT vice president for external affairs.
Burns said the website's feedback link provides anyone the opportunity to share with the advisory committee what qualities and values they believe the next president should have and offer suggestions on how to make the search process better.
John Barrett, UT vice provost for faculty relations and accreditation assessment and program review, said the selection of the presidential search firm by the Board of Trustees and the selection of the membership of the search advisory committee are the next big events in the process.
"Once we have the people and the partners in place, we can start talking through the desired qualities, values and attributes of the next president. This is where input from students, faculty, staff and alumni is crucial, and we'll be reaching out aggressively and asking you to share your views," Barrett said.
The website also includes the request for proposal for a presidential search firm that was posted April 29.
The website will be linked from the myut.utoledo.edu page next to the University directory as well as off the UT home page.