Dining options, hours for summer announced
May 9, 2018 |
UToday
By Marla Gootee
---
Looking for lunch on Main Campus? The Thompson Student Union is the place to be this summer.
Venues that are open Monday through Friday include: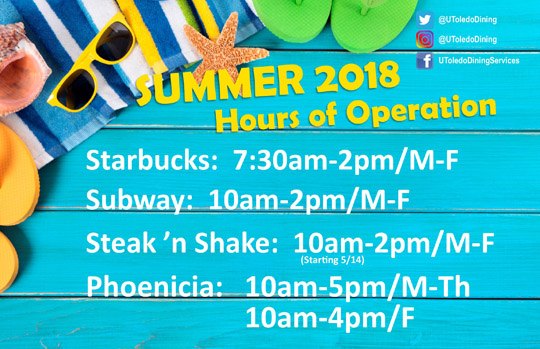 • Starbucks from 7:30 a.m. to 2 p.m.;
• Subway from 10 a.m. to 2 p.m.; and
• Phoenicia Cuisine, which will serve customers from 10 a.m. to 5 p.m. Monday through Thursday, and from 10 a.m. to 4 p.m. Friday.
And starting Monday, May 14, Steak 'n Shake will be back from 10 a.m. to 2 p.m. Monday through Friday.
There will be a few summer specials taking place: $2 grande coffee or tea (hot or iced) at Starbucks from 10 a.m. to 11 a.m., along with $4.99 fresh value meals at Subway, according to Kristi Nelson, marketing manager at Dining and Hospitality Services.
Happy Hour at Steak 'n Shake, which includes half off milkshakes, will take place from 11 a.m. to noon starting next week, she added.