Latino Youth Summit set to inspire local students
---
About 500 area students are expected to attend the 17th annual Latino Youth Summit this week at The University of Toledo to gain a better understanding of the four-year college experience and discuss paths to success.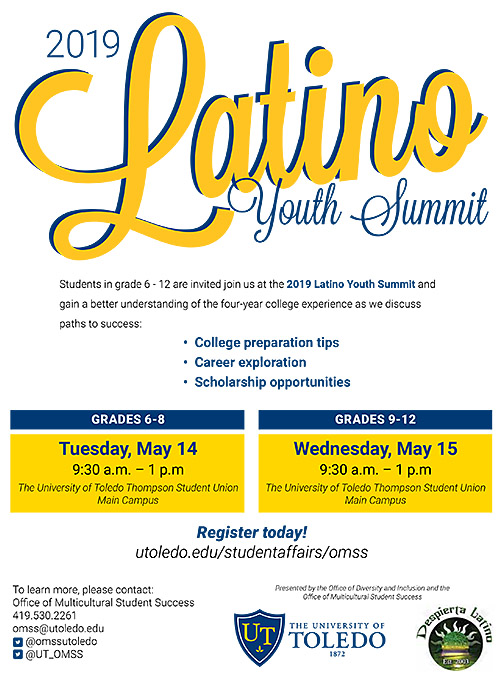 "We want students to leave campus knowing that they should be proud of their Latino heritage and culture, and that higher education is an option for them and that they are valued by UToledo," said Aleiah Jones, coordinator in the Office of Multicultural Student Success and committee chair of the event. "We want them to learn about all of the opportunities that are available to them here so that one day they can become Rockets."
The session for sixth- to eighth-graders will take place Tuesday, May 14, from 9:30 a.m. to 1 p.m. High schoolers will visit campus Wednesday, May 15, from 9:30 a.m. to 1 p.m. Both will be held in the Thompson Student Union.
Students will discuss college preparation tips, career exploration and scholarship opportunities.
Dr. German Garcia-Fresco, neuroscientist, entrepreneur and author, will be the guest speaker at this year's summit. He will talk to students about "10 Things I Didn't Learn in School" at 10:10 a.m. both days.
Garcia-Fresco is director of the Adaptive Neuroscience Research Institute in San Diego; founder of Doctor Fresco Academy, an online education course platform; owner of Xtreme Park Adventures in Durham, N.C.; consultant at the financial firm Legacy Life Group Inc.; and owner of Ultimate Auto Body in Raleigh, N.C.
His research has led to advances in neurobiology, contributing to mechanisms involved in neurodegenerative diseases. Garcia-Fresco has focused on the behavioral aspects of brain functioning, specifically decision making, emotional control and creative enhancement. He is researching techniques to increase neuronal performance and developing health and educational brain programs for children and adults.
The recipient of the President's Award for excellence in genetics and biochemistry is the author of "Train Your Brain for Success: How a Healthy Brain is the Key to Happiness and Success." Published in 2018, the book shows how a healthy brain can help build what Garcia-Fresco calls the three pillars of life: health, relationships and wealth.
He studied chemistry and molecular biology at the State University of New York at Purchase and received bachelor of arts and master of science degrees, and continued his education at the University of North Carolina, where he received a doctorate in molecular neurobiology.
For more information on the Latino Youth Summit, contact Jones at 419.530.2261 or aleiah.jones@utoledo.edu.