Latino Youth Summit set to excite, motivate students for college
---
More than 500 area students in grades six through 12 are expected to attend the 2017 Latino Youth Summit Tuesday and Wednesday, May 16 and 17, at The University of Toledo.
The program focuses on college preparation and planning, as well as career choices.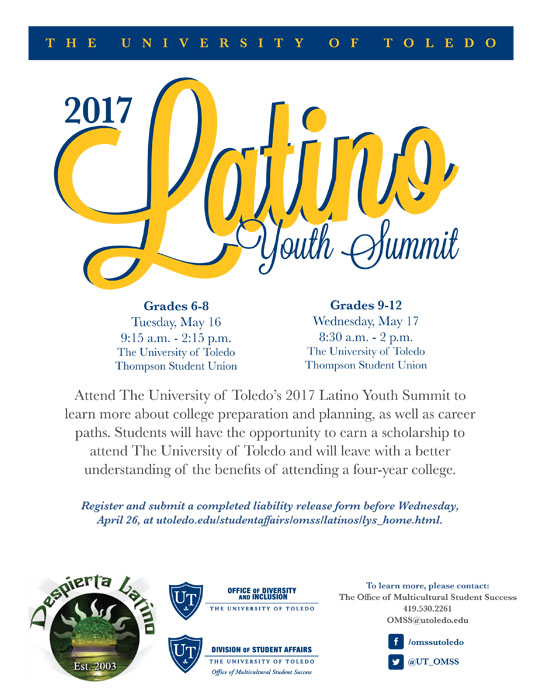 "The Latino Youth Summit encourages our young people to consider college and, more importantly, to picture themselves at The University of Toledo someday," Dr. Michele Soliz, assistant vice president for student success and inclusion, said. "In its 15th year, this is the largest event for Latino youth in the state."
Students in grades six through eight will be on campus Tuesday. They will visit Ritter Planetarium and the colleges of Engineering; Natural Sciences and Mathematics; Nursing; and Pharmacy and Pharmaceutical Sciences.
High school students will attend the summit Wednesday. They will learn about health careers at the Jacobs Interprofessional Immersive Simulation Center on Health Science Campus, as well as stop by the Judith Herb College of Education and the colleges of Arts and Letters, and Business and Innovation on Main Campus.
Richard Santana is this year's keynote speaker; he will address the students at 1 p.m. each day.
"My story is proof that through adversity, we can still achieve our dreams and go to college," Santana said.
He will talk about his days as a gang member in California and how he turned his life around. The counselor and educator received a master's degree from Harvard University and founded Homeboy Goes to Harvard Productions, which focuses on raising awareness about gangs, drug addiction and self-esteem.
In addition, the event will provide financial aid options for college, including a UT scholarship for attending the Latino Youth Summit.
The summit is sponsored by the Office of Diversity and Inclusion, and the Division of Student Affairs.
For more information, call the Office of Multicultural Student Success at 419.530.2261.