Professional Staff Association member to be honored at annual meeting
May 18, 2017 |
UToday
By Madison Vasko
---
The Professional Staff Association (PSA) will hold its 2017 annual meeting Tuesday, May 23, from noon to 1:30 p.m.
The meeting will take place in the Thompson Student Union Ingman Room, and lunch will be provided.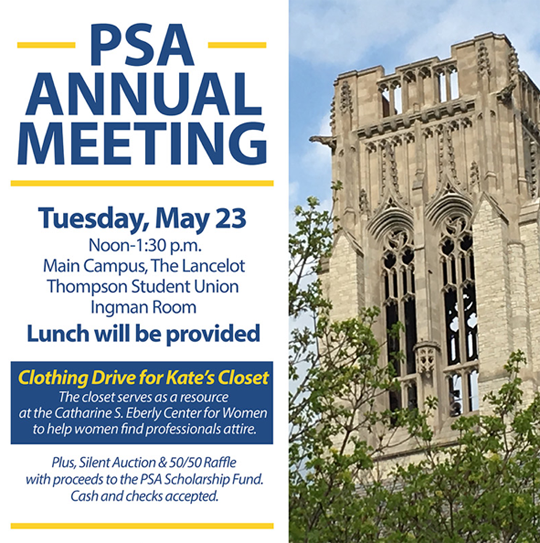 On the agenda for the meeting is the honoring of a current PSA member with the Frank E. Horton Award.
"[The award] was created to commemorate the 25th anniversary of the establishment of the Professional Staff Council at The University of Toledo," said Dr. Lisa Bollman, academic adviser in the Department of Communication. "The award is named for past UT President Frank Horton, who in 1992 was instrumental in establishing the PSA as an officially recognized organization on campus."
The honoree will be a member who displays an outstanding commitment, exemplary support, advocacy and service to professional staff at UT. With more than 1,200 members of PSA across UT campuses, there is a wide range of candidates to choose from.
Bollman continued, saying that examples of commitment to professional staff may include past membership on the Professional Staff Council, service on committees that represent the interests of professional staff, or engagement in campus and community events that strengthen the presence of professional staff on campus.
Members of PSA have until Friday, May 19, to vote for their choice for the Horton Award; the winner will be announced at the meeting Tuesday, May 23.
Attendees at the meeting also can donate to Kate's Closet, a professional clothing resource at the Catharine S. Eberly Center for Women.
In addition, there will be a silent auction and 50/50 raffle, with proceeds going to the PSA Scholarship Fund. Cash and checks will be accepted.
To register for the meeting, click here.