Senior Associate Athletic Director Named NCAA Division I Head Athletic Trainer of Year
---
The University of Toledo Senior Associate Athletic Director for Health and Wellness Brian Jones has been named the NCAA Division I Head Athletic Trainer of the Year by the National Athletic Trainers' Association's Intercollegiate Council for Sports Medicine.
Award recipients are honored for their active involvement in their community or campus, athletic training association and promotion of the profession.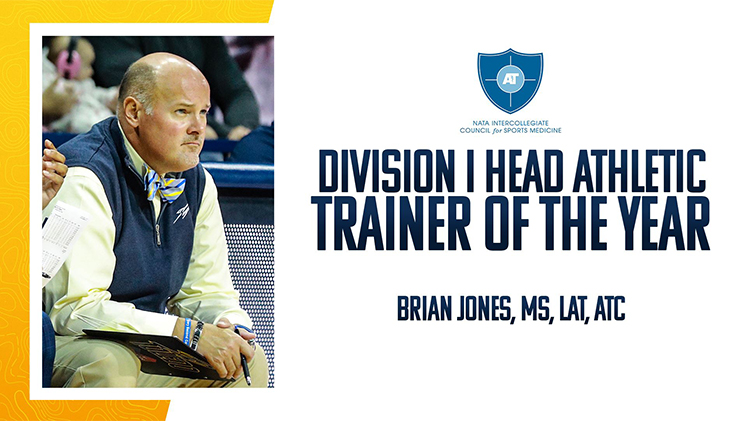 "I am extremely humbled to have received this award from the National Athletic Trainer's Association Intercollegiate Council of Sports Medicine," Jones said. "There is no better honor than to be recognized by my peers. For the last 24-plus years, I have had the honor to work with a fantastic group of student-athletes at UToledo who have only enhanced my personal and professional experiences. I would like to thank (former Athletic Director) Mike O'Brien for all his support through the years, which allowed us to build one of the premier sports medicine programs in the country. I look forward to the continued support of President Gregory Postel and Vice President and Athletic Director Bryan Blair.
"To all my mentors, each and every athletic training student who has gone through our program, all our graduate assistant athletic trainers, my staff, physicians, coaches and administrators, I share this award with you. The Toledo Sports Medicine family is simply the best."
Jones provides administrative oversight for all areas related to the health and wellness of Rocket student-athletes and the management of all athletic training facilities. He is also the liaison to the Health Science Campus and Main Campus Student Services to coordinate care for all student-athletes, serving as infection control officer for the program.
Jones also works directly with the men's basketball program where he supervises the health care needs of each student-athlete and serves as the men's basketball program's travel coordinator.
"What a terrific honor for Brian to receive the Athletic Trainer of the Year award," Men's Basketball Head Coach Tod Kowalczyk said. "Brian is absolutely one of the best athletic trainers in the country. He has great knowledge, always does what is best for the student-athletes and has a tremendous work ethic. He has made Toledo Athletics better in every way. To be recognized by his peers is special."
In addition to his work at UToledo, Jones serves on the NCAA Division I Concussion Safety Protocol Committee. The committee serves as an advocate for promoting and developing concussion safety management plans.
Prior to joining the Toledo athletic training staff in 1997, Jones spent two years at Michigan State where he worked with former UToledo football coach Nick Saban. During his time with the Spartans, he worked with the football program as well as several Olympic sports.
A native of La Porte, Ind., Jones received a bachelor of science degree in athletic training from Ball State in 1995. Jones also earned a master of science degree in athletic training from Michigan State in 1997.
Jones previously was honored as the Ohio Athletic Trainers' Association's 2011-12 Athletic Trainer of the Year and was inducted into Ball State's Cardinal Sports Medicine Society Ring of Honor in 2011.