Hands-on summer classes offered in environmental sciences
---
Three special courses are being offered this summer to teach students about the Toledo's aquatic habitats.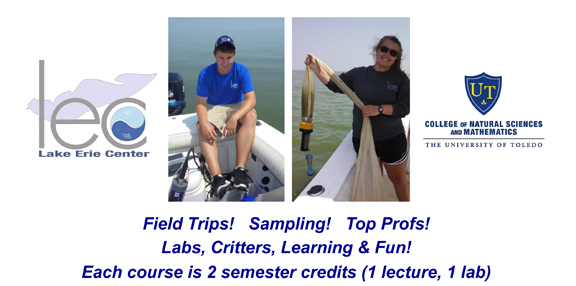 Students are invited to enroll in three different one-week courses this summer through the University of Toledo's Lake Erie Center. Each course is comprised of two semester credits — one lecture credit and one lab credit — and features hands-on learning opportunities in the Toledo community.
Intro to Aquatic Ecology (EEES 2980) will be taught by Dr. Douglas Kane and will run from Monday, June 15, to Friday, June 19, from 9 a.m. to 5:30 p.m. The class will explore the ecology of inland waters, with a specific emphasis on the Maumee River watershed and the western basin of Lake Erie. It is open to undergraduate and advanced high school students and teachers.
Field Ecology and Behavior of Fishes, which offers two sections for undergraduate students (EEES 4980) and graduate students (EEES 6980), will be taught by Dr. David Jude starting Monday, July 6, through Friday, July 10, from 9 a.m. to 5:30 p.m. This course will teach about fish habitats specifically in the Great Lakes emphasizing how humans have affected fish communities. Students will learn how fish are processed to provide useful data, how habitat affects distribution and abundance of species, how toxic substances affect fish, and the importance of understanding larval fish taxonomy.
Field Ecology and Behavior of Amphibians and Reptiles also has two sections, undergraduate (EEES 4980) and graduate (EEES 6980). It will be offered Monday, July 13, through Friday, July 17, from 9 a.m. to 5:30 p.m. Dr. Katy Klymus will teach the courses, which will serve as an introduction to herpetology — the study of reptiles and amphibians. Students will have the opportunity to study the basic taxonomy of these two groups, specifically native Ohio species.
To register, students should go to the myUT portal and click on the student tab.
For more information, visit utoledo.edu/nsm/lec or call 419.530.8364.