UT helps Toledo Public Schools go green
---
When it comes to sustainability, The University of Toledo is focusing on a lot more than just its own campuses.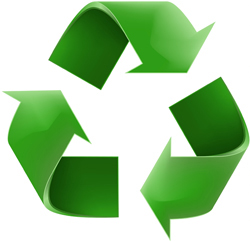 That's why UT has partnered with Toledo Public Schools to help them go green with a district-wide recycling program.
"Partnerships like these are important because it helps the whole community to further reach their sustainability goals," said Brooke Mason, UT sustainability specialist. "We are trying to be a sustainability leader in the community."
The partnership began after UT received an Ohio Environmental Protection Agency grant for a new five-bin recycling system throughout campus. Instead of getting rid of the old recycling containers, UT donated them to surrounding Toledo Public Schools so that they could begin recycling.
"We revamped our UT recycling program, and now we have the ability to help other organizations in the community with their recycling programs," Mason said. "For Toledo Public Schools, this allows them to further their sustainability initiatives because they now can recycle, reducing their waste they send to the landfill, and also reducing their operational costs."
Each weekend, a crew from UT goes to the schools to take the material back to UT to be processed. The materials are bulked with UT material and sold, and a percentage of the revenue is given back to Toledo Public Schools at the end of the year to be used to further their program.
So far, more than 82,000 pounds of recycled items have been collected across the district thanks to students and staff. To make it fun, the schools competed with one another to see who could recycle the most materials.
In the top three by weight were Start High School, Bowsher High School and Larchmont Elementary School with a combined 16,808 pounds of material. By weight per student, the top three were Westfield Elementary School, Hawkins Elementary School and Larchmont Elementary School with an average of 20.83, 11.27 and 10.51 pounds per student, respectively.
UT will continue servicing the schools through June, then will resume services at the beginning of the school year in September. In December, UT and Toledo Public Schools will assess the program and determine if it will continue for another year.
"We are excited about how successful the partnership has been already," Mason said. "We hope to grow this partnership into additional sustainability initiatives between Toledo Public Schools and UT."