UToledo Assistant Director of Sports Medicine Named Division I Assistant Head Athletic Trainer of Year
---
University of Toledo Assistant Director of Sports Medicine Brad Pierson has been named the Division I Assistant Head Athletic Trainer of the Year by the National Athletic Trainers' Association (NATA) and the Intercollegiate Council for Sports Medicine (ICSM).
Each year, NATA and ICSM honor the hard work and dedication of outstanding individuals who have devoted their time, energy and talents to the betterment of the athletic training profession.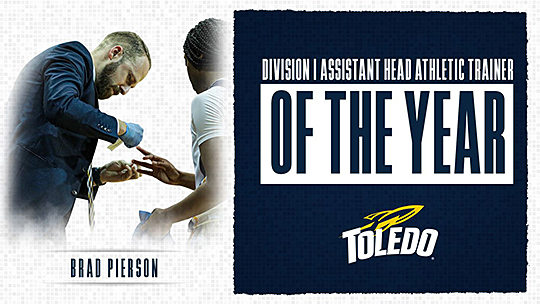 "I'm extremely honored to be recognized by the NATA and ICSM for this award," Pierson said. "To be nominated by my peers for this award is extremely humbling. There are athletic trainers across the country that do amazing work day in and day out, and for me to be recognized in this group of professionals is pretty incredible. The opportunity to provide healthcare for some outstanding student-athletes makes the long days well worth it. I want to thank my co-workers, coaches, and department administrators, because without their support, I would not be successful in my work."
Pierson recently completed his seventh season as a member of The University of Toledo sports medicine staff and second year as the assistant director of sports medicine and associate head athletic trainer. Pierson works directly with the women's basketball program and also oversees the graduate assistant athletic trainers who cover the track and field and men's and women's cross country programs.
"As the ICSM awards committee reviewed the many exceptional nominees for the Staff Athletic Trainer of the Year Award, Brad rose to the top of the list," said Steve Hillmer, a member of the ICSM Awards Committee. "Brad has been involved in increasing the quality and services provided to all of the student-athletes at The University of Toledo. His ability to work with various resources on campus to increase the care for the student-athletes is a model for every institution nationally. With all of his responsibilities on campus, Brad still finds the time and energy to serve the profession through his work at the state, regional and national level by volunteering on several committees. He is a role model for all athletic trainers in our profession."
Pierson came to Toledo after spending two years at Mid-American Conference member Eastern Michigan, where he was the primary athletic trainer for the men's basketball, crew and women's volleyball teams.
He earned a bachelor's degree in athletic training in 2009 from Alderson-Broaddus College in Philippi, W.Va., before going to EMU to earn a master's degree in exercise physiology in 2011 and working on the sports medicine staff as a graduate assistant.
In 2011, Pierson accepted a position at the West Virginia University Institute of Technology as an assistant athletic trainer and professor in the Physical Education Department.
A native of Charleston, W.Va., Pierson is a certified athletic trainer in the National Athletic Trainers' Association.
"Brad is clearly one of the best young professionals I have worked with in my 22 years at Toledo," said Associate Athletic Director for Sports Medicine Brian Jones. "His passion for this profession, the care he provides to our student-athletes, and his compassionate personality truly make him a fantastic recipient of this award. I'm truly honored to have Brad as a member of our Toledo sports medicine family."